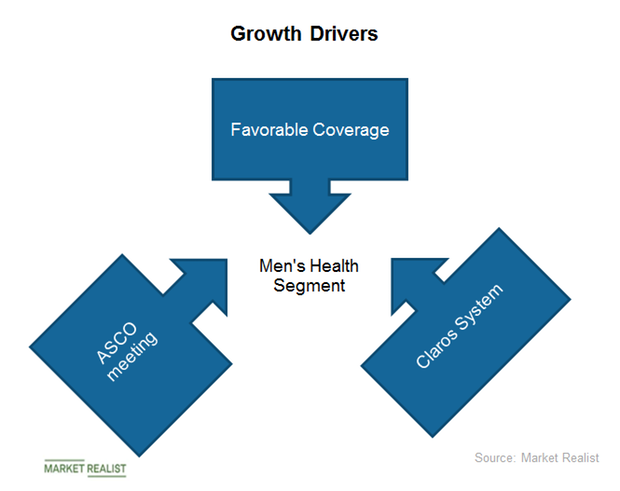 Men's Health Is a Key Focus Area for Opko Health
By Margaret Patrick

Dec. 4 2020, Updated 10:53 a.m. ET
4kscore blood test
Opko Health (OPK) is focused on advancing the penetration of its 4Kscore blood test. According to the company's third-quarter earnings conference call, "4Kscore blood test gives a man with elevated PSA levels a personalized prediction of his risk of having or developing an aggressive form of prostate cancer."
Management said during the earnings call that Q3 volumes of the 4Kscore test came in at 18,600, which was lower than the 19,000 tests processed in the third quarter of 2017. The company said the 4Kscore sales team has increased its focus on the urologist community. During the third quarter, the company witnessed a 15% increase in urologists prescribing this test. Opko Health has witnessed a 19% YoY rise in urologists performing 4Kscore blood tests in the 12 months ending September 2018.
Article continues below advertisement
Growth drivers
On May 18, Opko Health issued a press release announcing its plans to ensure Medicare coverage for the 4Kscore blood test despite the non-coverage policy proposed by Novitas Solutions. Although the final coverage decision is pending, Novitas has continued to provide coverage for this test for Medicare patients.
According to the company's third-quarter earnings conference call, in the public comment period, which ended on July 31, 2018, the company reported data from multiple studies to highlight the importance of this test to urologists in diagnosing an aggressive type of prostate cancer. Opko Health also presented data from a study at the ASCO meeting that highlighted the use of the 4Kscore blood test for deciding on a course of action for men with low to intermediate risk of prostate cancer.
On November 7, 2017, Opko Health issued a press release announcing the submission of a premarket approval application to the FDA seeking approval for a point of care Total PSA test on its Claros 1 immunoassay analyzer. The company expects to secure approval for this test by early 2019.
Beyond this test, Opko Health also plans to submit a 510(K) to the FDA in early 2019 seeking approval for the test to measure testosterone. The company is also evaluating other biomarkers such as vitamin D and parathyroid hormone to launch even more tests using the CLAROS platform.
In the next article, we'll discuss Opko Health's RAYALDEE franchise in greater detail.