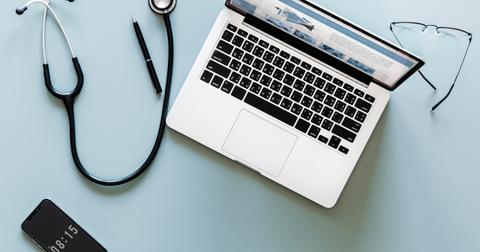 UNH Stock Up 4.1% on Solid Q3 2018 Results, View Up
By Sarah Collins

Updated
UnitedHealth Group reports its Q3 2018 earnings results
Today, UnitedHealth Group (UNH) released its third-quarter earnings. The company reported sales of $56.6 billion, up ~12.4% on a YoY (year-over-year) basis. The company's sales for the quarter exceeded Wall Street's estimate of $56.3 billion.
UNH's third-quarter adjusted EPS reached $3.41, ahead of Wall Street's estimate of $3.29. The company's adjusted EPS represented YoY growth of ~28.2%. UnitedHealth Group's earnings from operations rose ~12.3% to $4.6 billion.
The company reported strong growth in its cash flow from operations, rising to $4.6 billion from $4.1 billion in the third quarter of 2017. Today, UNH stock rose ~3.7% in premarket trading. During the day, the stock was up ~4.1%.
Article continues below advertisement
UNH's medical care ratio slipped
In the third quarter, UnitedHealth Group's (UNH) consolidated medical care ratio was 81.0%, representing a YoY decrease of 40 basis points. On a sequential basis, the company's medical care ratio declined from 81.9% in the second quarter.
The major factors impacting UNH's third-quarter medical care ratio included the return of the health insurance tax, which was more than offset by the business mix changes and operational efficiencies. A health insurance company's medical care ratio comprises the medical costs incurred as a percentage of premium revenues.
Segment performance
In the third quarter, UnitedHealth Group's UnitedHealthcare business registered year-over-year sales growth of ~12.8% to $45.9 billion. This segment's performance was driven by an increase in the consumer base, a pricing increase, the health insurance tax resumption, and its sales membership mix.
The UnitedHealthcare business reported earnings from operations of $2.6 billion, up ~7.0% year-over-year. However, its third-quarter operating margin declined by 30 basis points YoY to 5.6%, as its government program unit generated higher growth.
UnitedHealth Group's Optum business reported third-quarter sales of $25.4 billion, up ~11.0% year-over-year. OptumHealth, OptumInsight, and OptumRx posted YoY sales growth of 15.2%, 12.5%, and 9.3%, respectively. The segment's third-quarter operating margin expanded by 60 basis points.
UNH raised its earnings guidance for fiscal 2018
During its third-quarter earnings announcement, UNH raised its fiscal 2018 guidance. The company's adjusted EPS for fiscal 2018 is expected to be ~$12.80, up from its previous guidance range of $12.50–$12.75.
Among UnitedHealth Group's peers, Aetna (AET), Cigna (CI), and Anthem (ANTM) are expected to report sales growth of 2.0%, 8.8%, and 3.8%, respectively.
Check out all the data we've added to our quote pages. Now you can get a valuation snapshot, earnings and revenue estimates, and historical data as well as dividend info. Take a look!