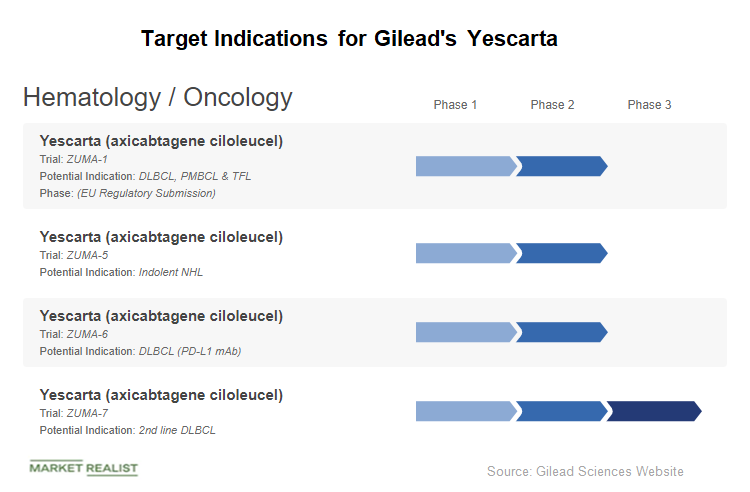 Analyzing Gilead Sciences' Research Pipeline Developments
By Kenneth Smith

Oct. 5 2018, Updated 11:36 a.m. ET
Pipeline developments
On October 3, Gilead Sciences (GILD) reported the results from a phase three study evaluating the safety and efficacy of Biktarvy for treating HIV-1 infections in treatment-naive patients. The drug was found to be statistically non-inferior to a regimen of abacavir, dolutegravir, and lamivudine through 96 weeks of therapy.
In the first week of September, Gilead Sciences entered into a licensing agreement with Trianni. Gilead Sciences can use Trianni's transgenic human monoclonal antibody discovery platform. Trianni specializes in antibody discovery technology. The company's platform makes use of advances in DNA synthesis and genomic modification technology.
Article continues below advertisement
In August, supported by data from the Zuma-1 trial, Gilead Sciences' Yescarta received marketing authorization in Europe for treating adult patients with relapsed or refractory diffuse large B-cell lymphoma and primary mediastinal large B-cell lymphoma, which are aggressive types of non-Hodgkin lymphoma. Previously, the patients received two or more systemic therapies. The drug is a chimeric antigen receptor T cell therapy that uses the patient's immune system to fight the cancer.
Major customers
Gilead Sciences receives most of its revenues from three significant customers—AmerisourceBergen (ABC), Cardinal Health (CAH), and McKesson (MCK). These three customers accounted for 20%, 20%, and 21% of Gilead Sciences' revenues in the second quarter, respectively—compared to 20%, 17%, and 23%, respectively, in the second quarter of 2017. While Cardinal Health's contribution to Gilead Sciences' revenues increased during this period, the contribution from McKesson fell 2%.
Next, we'll discuss Gilead Sciences' top-line trend.