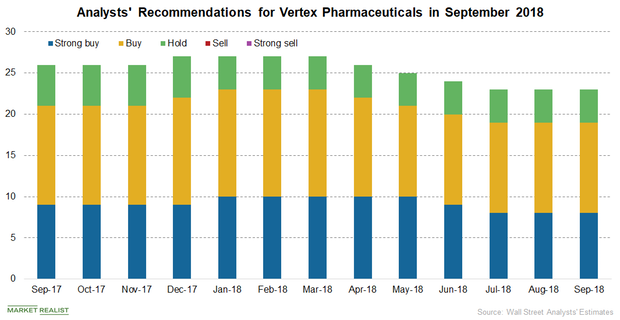 Vertex Pharmaceuticals Strengthens in the Cystic Fibrosis Space
About Vertex Pharmaceuticals
Vertex Pharmaceuticals (VRTX) develops medicines for life-threatening diseases and is presently focused on developing drugs for cystic fibrosis and sickle-cell disease, partnering with CRISPR Therapeutics (CRSP) for the latter. Vertex's Orkambi, Kalydeco, and Symdeko are top drugs in the cystic fibrosis market.
Article continues below advertisement
Stock performance
Yesterday, Vertex closed at $189.74, marking ~1.66% growth from its prior-day close of $186.65 and ~26% year-to-date growth from $150. Vertex stock's 52-week low is $136.50, which it reached on December 7, 2017.
Analysts' recommendations
Of the 23 analysts tracking Vertex, eight recommend "strong buy," 11 recommend "buy," and four recommend "hold." Their consensus 12-month target price of $196.52 implies a ~3.57% return.
Recent developments
This month, Vertex finalized an agreement with the Australian government allowing for Orkambi reimbursement for cystic fibrosis patients over six years old with two copies of the F508del mutation. The reimbursement agreement is expected to boost the drug's Australian sales.
In August, Vertex entered into a three-year collaboration agreement (extendable to five years) for the use of human genetics and machine learning in drug discovery. The collaboration will also study human genetic variation in diseases for which therapy is unavailable. In the next article, we'll discuss Vertex's financials in detail.