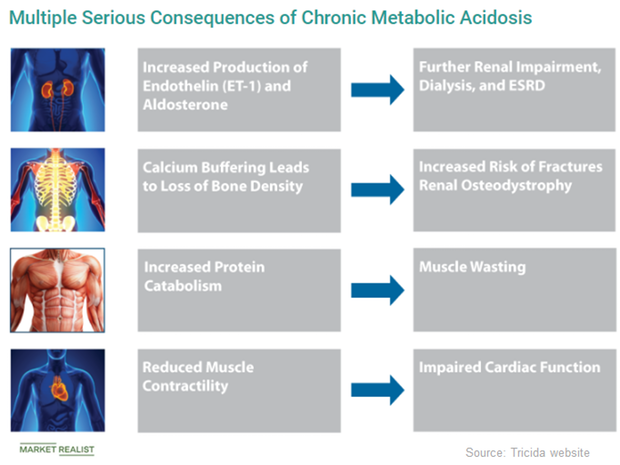 Tricida Posted 65.9% Returns in the Past Month
By Margaret Patrick

Sep. 12 2018, Updated 9:57 a.m. ET
Tricida's growth trends
Tricida (TCDA) has risen 65.9% in the past month, from $23.72 on August 10 to $39.35 on September 10. Tricida is a clinical-stage pharmaceutical company working on advancing polymer drug TRC101 in metabolic acidosis indication, which is a complication suffered by chronic kidney disease (or CKD) patients.
On June 5, it announced positive results from its Phase 3 trial TRCA-301 evaluating TRC101 in metabolic acidosis. On June 27, Tricida announced that it had priced its common stock in an initial public offering of 11.7 million shares at $19 per share. It has raised $255.6 million in its IPO.
Article continues below advertisement
Tricida plans to submit an NDA (New Drug Application) seeking FDA approval for TRC101 under an accelerated approval program in the second half of 2019. The company also plans to present Phase 3 data from the TRCA-301 trial at the American Society of Nephrology Kidney Week 2018 Meeting. These events will be major milestones for Tricida and may have an impact on the company's stock.
The above diagram highlights the severity of metabolic acidosis. In the absence of an FDA-approved therapy, TRC-101 may benefit from the significantly high unmet demand in this indication. Tricida has estimated that 9% of the Stage 3a CKD patients suffer from this complication, while 18% of Stage 3b CKD patients are afflicted by metabolic acidosis.
The company has estimated the number of patients suffering from Stage 3a CKD and Stage 3b CKD in the United States at ~13.4 million and ~5.7 million, respectively. Tricida has also projected that metabolic acidosis affects ~30% of Stage 4 and Stage 5 CKD patients in the United States. Based on those projections, the prevalence of metabolic acidosis in the United States is ~3 million CKD patients.
Analyst recommendations for Tricida
Of the three analysts covering Tricida in September 2018, one has recommended a "buy" for the stock, and two have recommended a "hold."
Wall Street analysts have projected a 12-month consensus target price for Tricida at $41, which would be a 4.2% rise over its closing price on September 10.