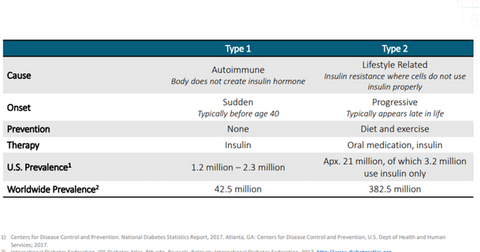 Tandem Diabetes Care: One of the Best Medtech Stocks in 2018
By Margaret Patrick

Updated
Tandem Diabetes Care stock movement
Tandem Diabetes Care (TNDM) has been one of the best-performing medical device companies in 2018 and has already reported a YoY (year-over-year) rise of 1,814.4% YTD (year-to-date). In the second quarter, the stock reported a 60% YoY rise in sales, beating the Wall Street estimate by $4.46 million. That's the third consecutive quarter of record sales for the company. To know more about Tandem Diabetes Care, be sure to read Tandem Diabetes Care Continues Its Strong Performance in Q2 2018.
Article continues below advertisement
On June 21, the FDA approved Tandem Diabetes Care's t:slim X2 insulin pump with Basal-IQ technology, an automated insulin delivery system that can help reduce the frequency of hypoglycemic events in diabetes patients. The company announced the launch of the device in the US market on August 17 and is preparing for international launches in the second half of 2018.
Additionally, Tandem Diabetes Care has also benefited from the FDA designation related to the compatibility of the t:slim X2 insulin pump with integrated continuous glucose monitoring (or iCGM). The designation is expected to help Tandem Diabetes Care accelerate the launch of its t:slim X2 with DexCom's (DXCM) G6 CGM, a unique system that would not require fingersticks to calibrate the device or make any diabetes treatment decisions.
Research pipeline
Tandem Diabetes Care has initiated a pivotal trial evaluating its second-generation automated insulin delivery system, the t:slim X2 with Control-IQ. The system is expected to work with automated insulin delivery technology that has been licensed from TypeZero and with DexCom's G6 iCGM values. That innovative system aims to maintain patients' glycemic values in the targeted range by changing basal insulin values and thus preventing hyperglycemic or hypoglycemic events. Tandem Diabetes Care expects the t:slim X2 with Control-IQ to beat the competition due to its ability to provide automated insulin boluses to patients as required.
In the next part of this series, we'll look at DexCom in greater detail.