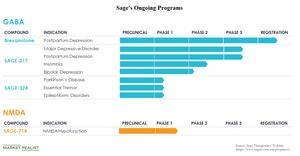 How Does Sage Therapeutics' Product Portfolio Look in September?
Sage Therapeutics
Sage Therapeutics' (SAGE) product portfolio includes products under development for the treatment of various rare and life-threatening central nervous system disorders.
The above chart shows the products under development as of September 20. The company has classified its products into two programs: GABA receptors and NMDA receptors.
Article continues below advertisement
NMDA receptor
The NMDA (or N-methyl-D-aspartate) receptor is an ionotropic glutamate receptor. The products under development in the NMDA receptor program are as follows:
SAGE-718: a compound under phase one clinical study for NMDA hypofunction
SAGE-904: a positive allosteric modulator under the IND-enabling studies
GABA receptor
GABA stands for gamma-aminobityric acid, which is an inhibiting neurotransmitter in the central nervous system. The GABA receptor family holds the major inhibitory neurotransmitter in the central nervous system.
The products based on the GABA receptor program and their development status as of September 20 are as follows:
Brexanalone (SAGE-547) is a compound developed for the treatment of postpartum depression that is currently in the registration stage.
SAGE-217 is a compound under clinical study for the treatment of major depressive disorder, postpartum depression, bipolar depression, insomnia, Parkinson's disease, and essential tremor. The compound is under phase two clinical study for insomnia and bipolar depression, while the compound is under phase three clinical study for major depressive disorder and postpartum depression.
SAGE-324 is a compound in the phase one clinical stage for the treatment of Parkinson's disease, essential tremor, and epileptiform disorder.
The First Trust NASDAQ Pharmaceuticals ETF (FTXH) holds 1.3% of its total portfolio in Sage Therapeutics (SAGE), 3.4% in AbbVie (ABBV), 4.2% in Bristol-Myers Squibb (BMY), and 4.3% in Johnson & Johnson (JNJ).