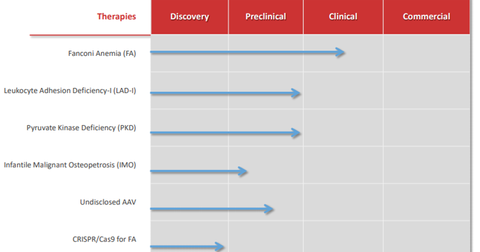 Gene Therapy Pipeline May Drive Rocket Pharmaceuticals' Growth
By Margaret Patrick

Updated
Rocket Pharmaceuticals' target price
Rocket Pharmaceuticals (RCKT) is a clinical-stage biopharmaceutical company focused on advancing its early-stage gene therapy pipeline across multiple rare diseases with significant unmet demand. These diseases include Fanconi anemia (or FA), leukocyte adhesion deficiency-I, pyruvate kinase deficiency, and infantile malignant osteopetrosis.
According to Rocket Pharmaceuticals, the company's leading ex-vivo lentiviral vector program in the FA indication is currently in the clinical stage of development. Other research programs are either in the preclinical stage or the discovery stage.
Article continues below advertisement
The 12-month consensus analyst recommendation for Rocket Pharmaceuticals on September 25 is a "strong buy." The 12-month consensus target price for the company is $28.50, which is 13.5% higher than its closing price on September 25. The highest target price estimate for the company is $30.00, and the lowest target price estimate is $27.00.
Of the four analysts covering Rocket Pharmaceuticals in September, two analysts recommended the company as a "strong buy," and two analysts recommended the company as a "buy."
The chart above highlights the gene therapy pipeline of Rocket Pharmaceuticals. The company has highlighted anticipated additional data from its FA research program in the next 12–18 months to prove to be a short-term growth driver.
The company expects to advance its FA program in the registrational trial stage by 2019. Rocket Pharmaceuticals also expects other research programs to advance into the clinical stage by the end of 2019.
Rocket Pharmaceuticals' returns
Rocket Pharmaceuticals (RCKT) has reported year-to-date returns of 140.52%. The company has also reported returns of 10.18% in the last week, 14.61% in the last month, 20.32% in the last quarter, 44.89% in the last half year, and 282.77% in the last year.
Rocket Pharmaceuticals closed at $25.11 on September 25, which was 310.29% higher than the company's 52-week low of $6.12 and 3.27% lower than the company's 52-week high of $25.96.
In the next article, we'll discuss the growth prospects for NuCana plc.