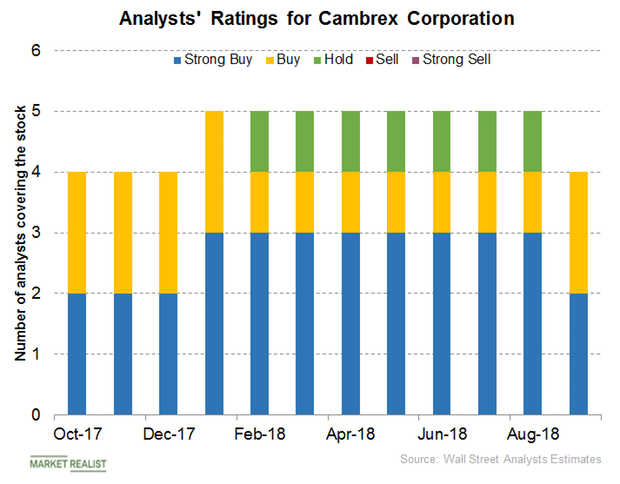 Cambrex May Benefit from Growth in the Small Molecule API Segment
Cambrex's target price
Cambrex (CBM) is focused on advancing its small molecule active pharmaceutical ingredients (or API) portfolio across three product categories: innovator APIs, generic APIs, and controlled substances.
According to Cambrex's 2018 Wells Fargo Healthcare Presentation, the company has supplied more than 120 APIs and intermediates to both innovators and generic pharmaceutical companies. The company currently operates six manufacturing sites across the United States and the European Union.
Article continues below advertisement
Cambrex has reported 2018 YTD (year-to-date) returns of 27.50%. The 12-month consensus target price for Cambrex is $74.67, which is 22.01% higher than the company's closing price on September 21. The company's last closing price of $61.20 is 43.83% higher than its 52-week low of $42.55 and 9.80% lower than its 52-week high of $67.85.
From 2012 to 2017, Cambrex reported a revenue CAGR (compound annual growth rate) and EPS of 14.10% and 8.20%, respectively.
The 12-month consensus analyst recommendation for Cambrex on September 23 is a "strong buy."
Of the four analysts covering Cambrex in September, two have rated the company as a "strong buy," and two have rated it as a "buy."
Financial performance in 2018
In the second quarter, Cambrex reported revenue of $152.05 million, a YoY (year-over-year) rise of 13.0%. The company managed to beat the consensus revenue estimate by $16.06 million. In the second quarter, Cambrex reported EPS of $0.74, which surpassed the consensus estimate by $0.08. Starting on January 1, the company adopted a new revenue recognition standard that has affected almost 50% of its revenue.
The 2018 guidance provided by Cambrex is in accordance with its old revenue recognition standard to facilitate a comparison of its financial performance with its performances in previous years. Accordingly, as announced by Cambrex on its second-quarter earnings conference call, the company expects to witness a YoY revenue growth rate in the range of -2%–2% for 2018, excluding the impact of foreign currency fluctuations. The company also expects its 2018 adjusted EBITDA to fall in the range of $150 million–$160 million.
In the next article, we'll discuss growth trends for Rubius Therapeutics in greater detail.