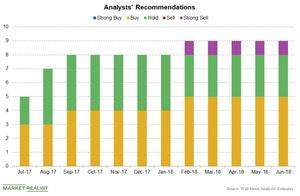 Why Editas Medicine Fell 7.8% on Monday
Editas Medicine
Editas Medicine (EDIT) is a pharmaceutical company focused on developing therapies based on CRISPR-CAS9 gene editing technology. On June 11, EDIT stock fell ~7.8% to close at $36.15 over concerns that CRISPR CAS-9 Gene Therapy causes cancer.
The above chart compares analysts' recommendations for Editas Medicine over the last 12 months.
Article continues below advertisement
Editas and the news
Editas Medicine has built a platform based on CRISPR gene technology. It's focused on developing gene-editing therapies for the treatment of cancer, lung diseases, liver diseases, muscle diseases, and blood diseases.
Editas's pipeline includes the following seven programs:
Two programs for eye diseases, including those that are currently in the discovery stage. One is for Leber Congenital Amaurosis IO, and the other is for genetic and infectious diseases of the eye (Usher Syndrome 2a and Herpes Simplex Virus I).
One program is for engineered T cells. The company uses gene editing in T cells to cure cancer.
Four additional research programs include one for non-malignant hematologic diseases (sickle cell disease or beta thalassemia), one for genetic diseases of the muscle (Duchenne muscular dystrophy), one for genetic diseases of the lungs (cystic fibrosis), and one for a genetic and infectious disease of the liver (alpha-1 antitrypsin deficiency).
Analysts' recommendations
Editas stock has risen ~129.9% over the last 12 months. Analysts estimate that the stock will rise 25% over the next 12 months with a target price of $45.20 compared to $36.15 on June 11.
On June 12, there are nine analysts tracking Editas stock. Five of them are recommending a "buy," and three are recommending a "hold." One analyst is recommending a "sell." The consensus rating for Editas is 2.7, which represents a "buy" for value investors.
The iShares Nasdaq Biotechnology ETF (IBB) holds 0.2% in Editas Medicine (EDIT), 0.1% in Intellia Therapeutics (NTLA), 0.4% in Crispr Therapeutics (CRSP), and 7.1% in Celgene (CELG).