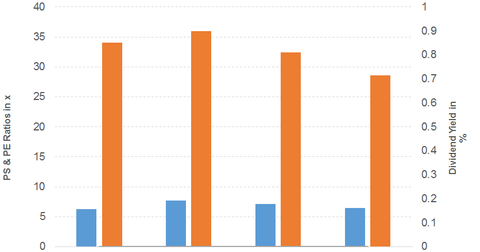 Globus Medical: What Contributed to Its Valuations?
By Amanda Lawrence

Updated
Globus Medical's revenue, EPS, and valuations
Globus Medical (GMED) has missed three consensus revenue estimates and one consensus EPS estimate in the last 20 quarters. Its revenue and EPS have grown at a five-year CAGR (compound annual growth rate) of 10.5% and 8.6%, respectively. It has a price-to-sales ratio of 8.4x compared to the sector at 6.9x and the S&P 500 at 2.2x.
The company's PE ratio of 45.4x compares to the sector and the S&P 500 at 98.4x and 22.1x, respectively. It has a dividend yield of 0% compared to the sector and the S&P 500 at 0.9% and 2.3%, respectively.
GMED stock has risen 33.5% year-to-date.
What contributed to GMED's valuations?
So far this year, Globus Medical has recorded its financial results for fiscal 2017, entered into a new market, launched new products, initiated a corporate alliance, and released its financial results for the first quarter of 2018.
Globus Medical's sales grew 12.8% in fiscal 2017, driven by its Innovative Fusion and Disruptive Technology segments. Strong sales from Alphatec International sales and the Quartex Occipito-Cervico-Thoracic Stabilization System drove the Innovative Fusion segment. Product launches in the past three years and sales of Excelsius GPS drove the Disruptive Technology segment. US sales were driven by expansion in newer and existing territories and strong sales in Disruptive Technology products. International sales were driven by incremental sales from Alphatec International and increased penetration in Japan. EPS grew 10% during the year.
The company announced its entry into the orthopedic trauma market in March.
In April, it announced the launch of two innovative lateral expandable interbody spacers with integrated screw fixation. They ensure the rebuilding of sagittal balance and improved structural fixation.
Sales grew 11.9% in the first quarter, driven by a strong demand for its Emerging Technologies Excelsius GPS robotics and spine technology in the United States. Its international sales were driven by favorable currency fluctuations and strong sales in Japan and Europe. Its EPS grew 28% in the quarter.
The company announced its corporate alliance partnership with the Society of Lateral Access Surgery in May. The partnership will offer educational and research enterprises significant access to evolving lateral access surgery.
In June, it announced the launch of the CREO Fenestrated Screw System for the treatment of advanced stage tumors of the thoracolumbar spine.
AI ETFs
The Fidelity MSCI Information Technology ETF (FTEC) has a dividend yield of 0.9% at a PE ratio of 23.4x. It has 98% exposure to the technology sector. The iShares S&P Global Technology Sector ETF (IXN) offers a dividend yield of 0.8% at a PE ratio of 23.6x. It has 98% exposure to the technology sector.