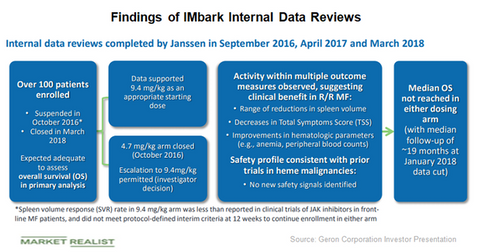 A Look at Geron's Imetelstat Research Program
By Kenneth Smith

Updated
IMbark trial
IMbark, a Phase 2 clinical trial, is evaluating two dose levels of Geron's (GERN) imetelstat in ~200 myelofibrosis patients who have relapsed after or are refractory to prior treatment with a janus kinase inhibitor. The primary endpoints for the trial are the spleen and symptom response rates. The secondary endpoints of the trial include safety and overall survival. Geron expects an overall survival assessment to provide key information for the imetelstat program for potential future clinical trials.
Data review
Janssen reviewed IMbark's internal data in September 2016, April 2017, and March 2018. The drug's safety profile was found to be consistent with prior clinical trials focusing on hematologic malignancies. Janssen officially closed the trial to new patient enrolment in March, as it believes the more than 100 patients enrolled will be sufficient to assess overall survival.
Janssen expects the assessment of overall survival to begin by the end of Q2 2018, with a clinical cut-off date of April 26. By the end of Q3 2018, Geron expects to be informed by Janssen if the latter will maintain the license rights under the collaboration agreement and continue developing imetelstat, or discontinue its development and terminate the collaboration. In the next part of this series, we'll look at Geron's IMerge trial.