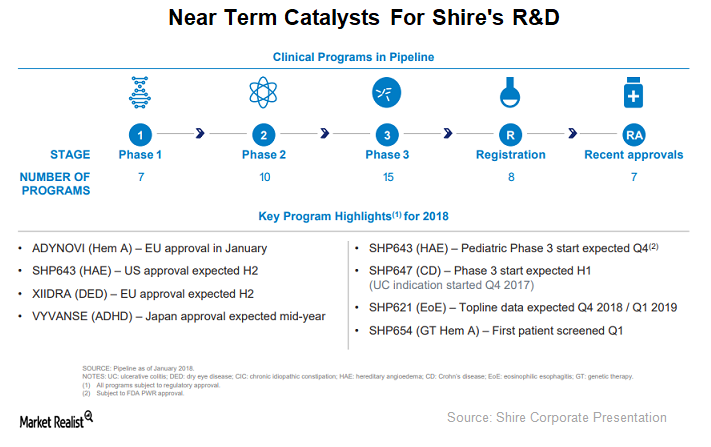 Takeda Pharmaceutical Makes 4th Successive Bid for Shire
By Kenneth Smith

Apr. 25 2018, Updated 2:00 p.m. ET
Sweeter offer
Takeda Pharmaceutical's (TKPYY) bid for Shire (SHPG) has piqued a lot of investor interest. After three of Takeda's previous bids were rejected, it announced a new bid of $60 billion for Shire on April 20.
The cash portion of the new bid has risen 45% compared to 38% for its earlier bid. Takeda, a Japanese pharmaceutical company, has increased its offer to 47 pounds per share from 46.5 pounds per share. The new offer includes 21 pounds per share in cash and 26 pounds per share in new stock.
To woo investors and alleviate their possible apprehensions at receiving Takeda stock, Takeda said it would enable current Shire investors to continue to hold shares in the combined company through ADRs (American Depositary Receipts) on the New York Stock Exchange.
Article continues below advertisement
Why the pursuit?
In the past two weeks, Shire has rejected three of Takeda's bids, and each time, Takeda has raised the cash component of its offer. Takeda has been witnessing shrinking shares in its home market and has a few late-stage product candidates in its pipeline. To keep growing, the company needs new therapies that are lucrative, such as Shire's products for rare diseases.
Stock performance
Since negotiations started, the stocks of the two companies have been on opposite trajectories. Takeda Pharmaceutical stock has fallen 14%, reducing its market capitalization to $36 billion.
On April 19, Allergan announced that it was considering a $63 billion offer for Shire but then announced that same day that it didn't plan to make the offer and pulled out of negotiations. As a result, Shire stock fell 4.5% on Apil 20. In 2017, Takeda paid ~$4.7 billion for US cancer drugmaker Ariad Pharmaceuticals.
In the next part of this series, we'll take a look at Dicerna Pharmaceuticals' litigation settlement with Alnylam Pharmaceuticals.