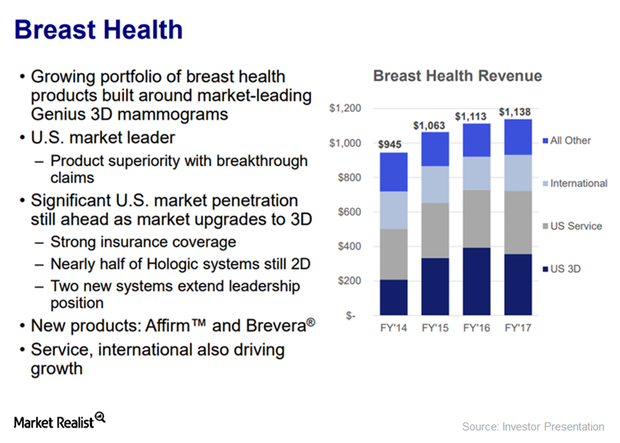 Philips and Hologic Partners in Women's Health Area
Overview
On March 2, 2018, Hologic (HOLX) announced a global partnership with Royal Philips (PHG) to provide an integrated health solution for women comprised of diagnostic imaging modalities and advanced informatics along with screening, diagnosis, and treatment services.
The agreement is a multiyear, non-exclusive global partnership deal that allows for customized implementation according to regional requirements, taking into consideration the individual customer's needs. Neither of the companies disclosed the financial terms of the deal.
Article continues below advertisement
Agreement details
According to the agreement, some of the selected products from Hologic's breast health portfolio will be available for Royal Philips to offer as part of its multi-modality deals for healthcare providers, hospitals, and more. The selected products include Hologic's breast screening technologies, interventional radiology technologies, and its 3Dimensions Mammography System, the fastest breast tomosynthesis system in the market. As we saw in the previous part of this series, the FDA has recently approved new innovations in Hologic's 3Dimensions Mammography System.
Deal rationale
Hologic is a leading player in the mammography technologies market, while Royal Philips has a leading portfolio of diagnostics and informatics systems. In breast care, the company has advanced imaging products for ultrasound, including Philips Affinity with Anatomical Intelligence for Breast, Philips Ingenia digital MRI (magnetic resonance imaging) with Compressed SENSE, and PET/CT (positron emission tomography-computed tomography) devices including the Philips Vereos fully digital PET/CT that supports intelligent image analysis, information management, quantification, and workflow tools.
The partnership is expected to leverage the capabilities of the two companies to develop market-leading integrated imaging solutions for women's health. The solution will further advance the company's objective of providing a comprehensive portfolio of solutions and therapies for improving women's health through early detection, diagnosis, and treatment.