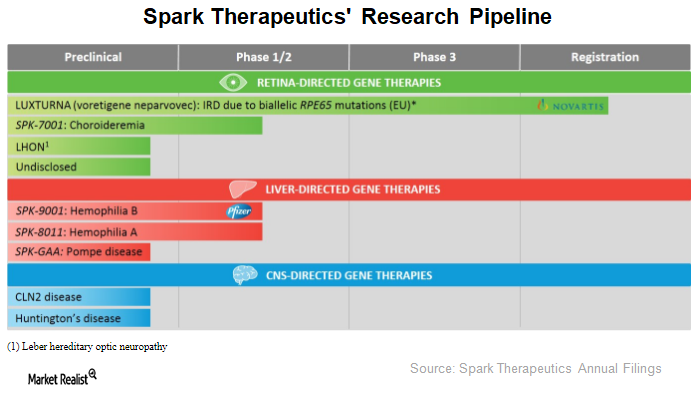 Exploring Spark Therapeutics' Product Pipeline
By Kenneth Smith

Apr. 18 2018, Updated 8:29 a.m. ET
Luxturna
Spark Therapeutics' (ONCE) Luxturna was approved by the FDA in December 2017 for the treatment of patients with viable retinal cells and RPE65 mutation-associated retinal dystrophy, a genetic blinding condition caused by mutations in the RPE65 gene.
Luxturna is the first gene therapy approved for the treatment of a genetic disease. Luxturna has also received an orphan product designation, and on approval, it received a rare pediatric disease priority review voucher.
Article continues below advertisement
Commercialization strategy
To build and promote access to Luxturna, Spark Therapeutics is supporting product use through small, targeted commercial and medical affairs groups in the United States. The company announced two novel payer programs in January 2018 to ensure eligible patients in the United States have access to Luxturna. These programs include an innovative contracting model and an outcomes-based rebate arrangement with a short-term efficacy measure and a long-term durability measure.
Clinical pipeline
Spark Therapeutics' clinical pipeline includes an ocular program consisting of its product candidate SPK-7001 targeting choroideremia and hemophilia programs consisting of SPK-9001 targeting hemophilia B and SPK-8011 targeting hemophilia A.
SPK-7001 is currently in Phase 1 and 2 trials, and SPK-9001 and SPK-8011 are in Phase 1 and 2 trials.
Preclinical programs
Spark Therapeutics also has several products in various stages of preclinical development. The company is developing other liver-directed gene therapies, including SPK-GAA for Pompe disease, which is an inherited lysosomal storage disorder that leads to the accumulation of glycogen in cells. It's also developing candidates for neurodegenerative diseases such as Batten disease and Huntington's disease. The company has received an orphan drug designation for its SPK-TPP1 candidate for treating CLN2 disease in the United States.
Additionally, Spark Therapeutics entered into a licensing and commercialization agreement with Novartis in January 2018 for the development and commercialization of the investigational drug voretigene neparvovec outside the United States.
In the next article, we'll take a look at the financial performance of Spark Therapeutics.