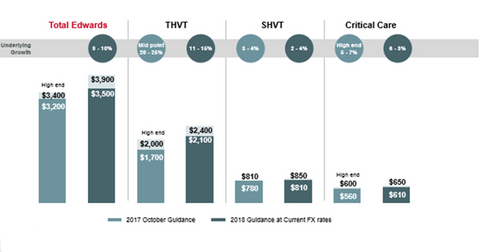 Edwards Lifesciences and Boston Scientific: Patent Dispute Update
By Sarah Collins

Nov. 20 2020, Updated 4:55 p.m. ET
Edwards Lifesciences' and Boston Scientific's patent dispute
On March 23, 2018, Edwards Lifesciences (EW) announced that it won its dispute with Boston Scientific (BSX) over US Patent 8992608. The USPTO (US Patent and Trademark Office) decided in favor of Edwards in an inter partes review filed by Boston Scientific against Edwards for its TAVR (transcatheter aortic valve replacement) technology, finding all the related claims against Edwards to be invalid. Boston Scientific said that it plans to appeal the decision.
Article continues below advertisement
Boston Scientific had filed the case against Edwards Lifesciences in Delaware in 2016. Following this development, Edwards asserted three of its foundational TAVR patents against Boston Scientific. According to Edwards, these patent claims will not be affected by the USPTO's ruling, and the trial is expected to continue in the latter part of 2018. Edwards Lifesciences expects to register TAVR sales of 11%–15% in fiscal 2018, as shown in the chart above.
On March 23, 2018, Edwards Lifesciences fell ~1.8%, partly as a result of global market weakness due to US-China trade war fears following the announcement of US tariffs on Chinese imports. To learn more, read US Indexes Fell Sharply—Is a Trade War with China in the Offing?
EW's TAVR patent-related lawsuits
Edwards Lifesciences, a leading medical technology company in the TAVR space, has been involved in a number of patent litigations related to its TAVR products. In 2014, Edwards received a one-time settlement payment of $750 million from Medtronic (MDT) related to TAVR patent litigations the two companies had been involved in since 2007. Edwards Lifesciences was also to receive quarterly royalty payments of $40 million–$60 million from Medtronic for the sales of its competing TAVR device, CoreValve.