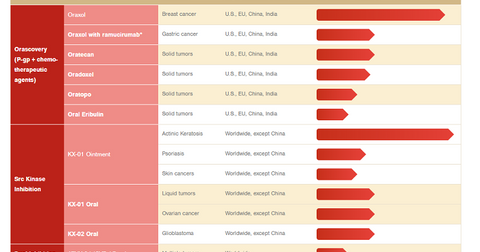 Understanding Athenex's Research Platforms
By Kenneth Smith

Apr. 2 2018, Updated 7:05 a.m. ET
Orascovery platform
Athenex's (ATNX) Orascovery platform is based on the P-gp pump inhibitor molecule, HM30181A. Athenex licensed the molecule from Hanmi, a Korean pharmaceutical company, in 2011. The technology allows certain chemotherapeutic agents to be absorbed into the blood orally compared to the intravenous route. The technology could help patients tolerate multiple treatment cycles.
Athenex's lead Orascovery candidate, Oraxol is composed of HM30181A coadministered with an oral dose of paclitaxel. Athenex also has three other product candidates—Oratecan, Oradoxel, and Oratopo—in the Orascovery platform. In December 2017, Athenex announced the initiation of the preparation of an IN (investigational new drug) application for oral eribulin coadministered with HM30181A.
In July 2017, Athenex started a clinical study to evaluate Oraxol in combination with Eli Lilly's (LLY) monoclonal antibody Cyramza to treat gastric, gastric esophageal, and esophageal cancer. Athenex is also planning a combination study of Oraxol with anti-PD1 in advanced malignancies.
Article continues below advertisement
Notably, Athenex received positive feedback from the FDA on the design of its ongoing phase three trial of Oraxol. If the study meets its primary endpoint, it would likely support Oraxol's registration for metastatic breast cancer in the US. In January 2018, Oraxol was allowed an IND application in China. Athenex can start a clinical trial program for Oraxol in China in 2018.
Src Kinase inhibition platform                        
The Src Kinase inhibition platform includes small molecule compounds that have differentiated mechanisms of actions. Athenex's three key product candidates in the platform include KX-01 ointments for actinic keratosis and psoriasis, KX-01 oral for solid and liquid tumors, and KX-02 for glioblastoma multiforma.
Next, we'll discuss Athenex's financial performance.