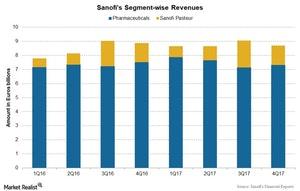 Performance of Sanofi's Business Segments in 4Q17
By Mike Benson

Mar. 1 2018, Updated 4:20 p.m. ET
Sanofi's business segments
Sanofi's (SNY) business comprises three segments: Human Pharmaceuticals, Sanofi Pasteur (the Human Vaccines segment), and Others. The Human Pharmaceuticals portfolio includes specialized pharmaceutical products, generic pharmaceutical products, and consumer healthcare products. 
In 2017, Sanofi exchanged Merial, its animal health business, with the consumer healthcare business of Boehringer Ingelheim.
The chart above compares the segment-wise revenues for Sanofi since 1Q16. At constant exchange rates and with a constant structure, the company reported revenues of 8.7 billion euros, a decline of 1.6% in revenues in 4Q17.
Article continues below advertisement
Segment-wise performance in 4Q17
The Human Pharmaceuticals segment comprises pharmaceutical products and consumer healthcare products. This segment is further classified into several franchises—Sanofi Genzyme, the diabetes and cardiovascular franchise, general medicines and emerging markets, and the consumer healthcare franchise. The Pharmaceuticals segment reported revenues of 7.3 billion euros in 4Q17 for ~3.3% growth in revenues compared to 4Q16.
Sanofi Pasteur, the Human Vaccines segment, includes vaccines such as meningitis vaccines, pneumonia vaccines, adult booster vaccines, influenza vaccines, haemophilus influenza type b (or Hib) vaccines, polio vaccines, pertussis vaccines, and travel and other endemics vaccines. Sanofi Pasteur reported revenues of ~1.4 billion euros in 4Q17, for 8.7% growth in operating revenues compared to its 4Q16 revenues.
The PowerShares International Dividend Achievers ETF (PID) holds 10.1% of its total assets in healthcare companies. PID holds ~1.4% in Sanofi ADR (SNY), ~1.4% in Novartis ADR (NVS), ~1.0% in Novo Nordisk ADR (NVO), and ~4.8% in Teva Pharmaceuticals ADR (TEVA).