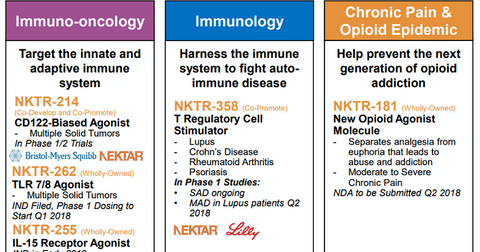 Nektar Therapeutics' Interesting Product Pipeline
By Kenneth Smith

Updated
Immuno-oncology
In immuno-oncology, Nektar Therapeutics (NKTR) targets biological pathways that stimulate and sustain the body's immune response in order to fight cancer. Nektar's lead immuno-oncology candidate, NKTR-214, is a biologic with biased signaling through IL-2 receptor subunits that are said to stimulate the growth of tumor-fighting immune cells in the tumor microenvironment.
In February 2018, Nektar Therapeutics entered into a collaboration agreement with Bristol-Myers Squibb (BMY) to jointly develop NKTR-214 in combination with BMY's Opdivo plus Yervoy. The companies have agreed to jointly commercialize NKTR-214 on a worldwide basis. Under the agreement, Bristol Myers Squibb will pay Nektar Therapeutics $1 billion up front and purchase $850 million of Nektar's common stock at a price of $102.60 per share. Nektar Therapeutics expects the transaction to close in the second quarter of 2018.
Article continues below advertisement
Immunology
Nektar Therapeutics' NKTR-358 is designed to correct the underlying immune system imbalance in the body that occurs in patients suffering with autoimmune diseases. The company submitted an investigational NDA (New Drug Application) for NKTR-358 in February 2017. NKTR-358 is being developed as a once- or twice-monthly self-administered injection for various autoimmune diseases.
Nektar Therapeutics began the Phase 1 dose-finding trial for NKTR-358 in 50 patients to evaluate single ascending doses of the drug. It expects to initiate the Phase 1 multiple ascending dose trial to evaluate NKTR-358 in patients with SLE (systemic lupus erythematosus) in the second quarter of 2018.
NKTR-181
Nektar Therapeutics' NKTR-181 is targeted for chronic pain conditions. The drug is in Phase 3 clinical development. Nektar Therapeutics has completed pre-NDA meetings with the FDA and expects to file an NDA for NKTR-181 in the first half of 2018.
In the next part of this series, we'll take a look at Nektar Therapeutics' revenue trend.