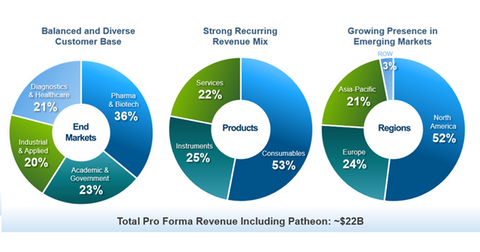 A Look at Thermo Fisher Scientific's Recent Research Partnerships
By Sarah Collins

Updated
Overview
Thermo Fisher Scientific offers products including analytical instruments, reagents, equipment, consumables, diagnostics and research software, and services. The company has registered steady growth over recent years mainly through partnerships, collaborations, and tuck-in acquisitions. The revenue profile of the company is shown in the diagram below. Recently, the company has entered a number of research partnerships focused on providing solutions to treat cancer and neurodegenerative diseases.
Article continues below advertisement
BioDiscovery and TMO partnership on cancer research
On March 9, 2018, BioDiscovery and Thermo Fisher Scientific announced their partnership for the development of an end-to-end cancer research product. As per the terms of the agreement, both the companies will work on creating an assay and software research package that will be based on the Nexus Express for OncoScan software offered by BioDiscovery. The software was developed by BioDiscovery for Affymetrix, which was acquired by Thermo Fisher Scientific in 2016.
Neuro and Thermo Fisher Scientific partnership
On March 5, 2018, Thermo Fisher Scientific and the Montreal Neurological Institute of McGill University entered an agreement focused on accelerating neurological disorder understanding. The expertise of both organizations will help develop improved neurological research methods of producing and characterizing reagents and antibodies.
As per the agreement, both the institutions will focus on 30 proteins associated with brain diseases like amyotrophic lateral sclerosis, Parkinson's disease, hereditary spastic paraplegias, ataxias, and epileptic encephalopathies. The institute is also working on related agreements for accelerating research in neurological disease conditions with agreements with Takeda Pharmaceutical Company, the Structural Genomics Consortium, the Centre for Drug Research and Development, and Merck (MRK).