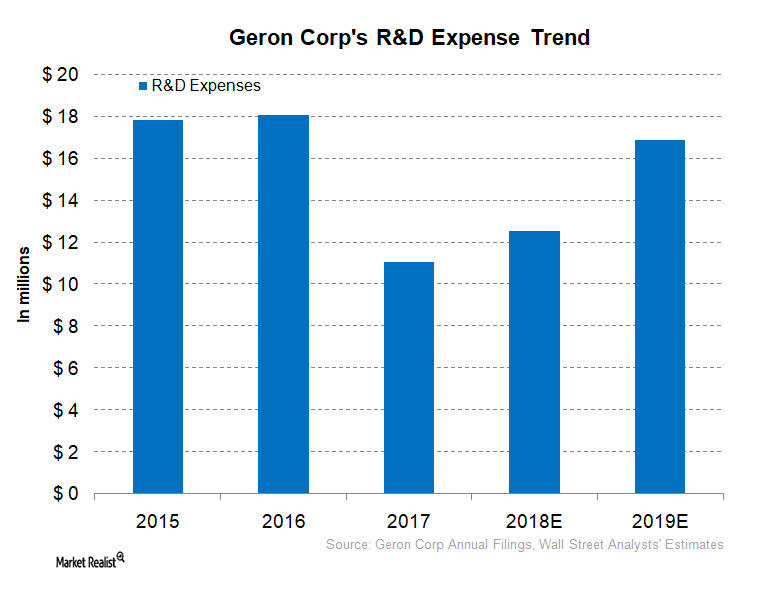 A Close Look at Geron's Imetelstat
By Kenneth Smith

Mar. 21 2018, Updated 1:30 p.m. ET
Imetelstat
Under the collaboration agreement between Geron (GERN) and Janssen Biotech, Geron received $35 million in an upfront payment and could receive potential payments up to $900 million in milestone payments as well as royalties on worldwide net sales of imetelstat.
Janssen Biotech is completely responsible for the development and commercialization of imetelstat. The drug is currently in two clinical trials: IMbark, a Phase 2 trial in myelofibrosis (or MF); and IMerge, which is in Phase 2 and Phase 3 trials in myelodysplastic syndrome (or MDS). Geron contributes 50% of the development costs for these trials. Imetelstat was granted fast track designation by the FDA in October 2017.
Article continues below advertisement
Myelofibrosis
Myelofibrosis is a chronic blood cancer in which abnormal cells in the bone marrow proliferate rapidly, which causes fibrosis. That leads to the impairment of normal blood production in the bone marrow. According to Geron, the prevalence of MF in the United States is ~13,000 patients with an annual incidence or new cases of ~3,000. Currently, ruxolitinib is the only targeted drug therapy approved by the FDA for MF.
Myelodysplastic syndrome
Myelodysplastic syndrome can be characterized by a low red cell count and low hemoglobin. It's a blood disorder that results in the disordered and ineffective production of red blood cells, white blood cells, and platelets.
According to Geron, there are ~60,000 people living with MDS in the United States, and ~16,000 new cases of MDS are reported in the United States every year.
Research and development expenses
Geron's research and development expenses were $11 million in fiscal 2017 compared with $18 million in fiscal 2016.
In the next part of this series, we'll take a look at Geron's financial performance.