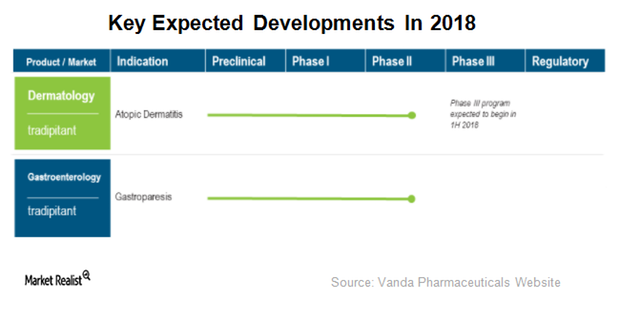 What Investors Can Expect from Vanda Pharmaceuticals in 2018
By Kenneth Smith

Feb. 23 2018, Updated 5:17 p.m. ET
Key events to watch
Investors can expect a slew of critical developments from Vanda Pharmaceuticals (VNDA) in 2018. It expects to begin a tradipitant Phase 3 study in the first half of 2018 for atopic dermatitis and publish results from the tradipitant clinical study for the treatment of gastroparesis by the end of fiscal 2018.
For Hetlioz, Vanda Pharmaceuticals has completed enrollment for Studies 2102 and 3107 for the treatment of jet lag disorder. It expects results from the studies in 1Q18.
It also expects a VTR-297 Phase 1 study in patients with hematologic malignancies to begin in the second half of 2018.
Article continues below advertisement
Competition
The success of Vanda Pharmaceuticals depends on increasing sales for its two main products: Hetlioz and Fanapt. A number of companies compete in this space, some of which have significantly greater resources than Vanda Pharmaceuticals.
For Hetlioz, there are no FDA-approved direct competitors for the treatment of Non-24. But other sedative hypnotic treatments for certain disorders related to sleep include Sanofi's Ambien, Sunovion Pharmaceuticals' Lunesta, Pfizer's Sonata, and Merck & Co.'s suvorexant.
Generic and OTC (over-the-counter) competitor drugs include zolpidem, trazodone, doxepin, Benadryl, and Tylenol.
In the treatment of schizophrenia, products that compete with Fanapt include Zyprexa Relprevv by Eli Lilly, Seroquel and Seroquel XR by AstraZeneca, Abilify by Otsuka America Pharmaceutical, and Saphris by Allergan.
Stock performance
In the past three months, between November 21, 2017, and February 20, 2018, Vanda Pharmaceuticals stock has risen 30% to $17.10. In comparison, Pfizer (PFE), Merck & Co. (MRK), and Novartis (NVS) have risen 3%, 2.9%, and 3.2%, respectively, in the similar period. Vanda Pharmaceuticals' enterprise-value-to-revenue ratio is 3.79x, and its price-to-sales ratio is 4.65x.