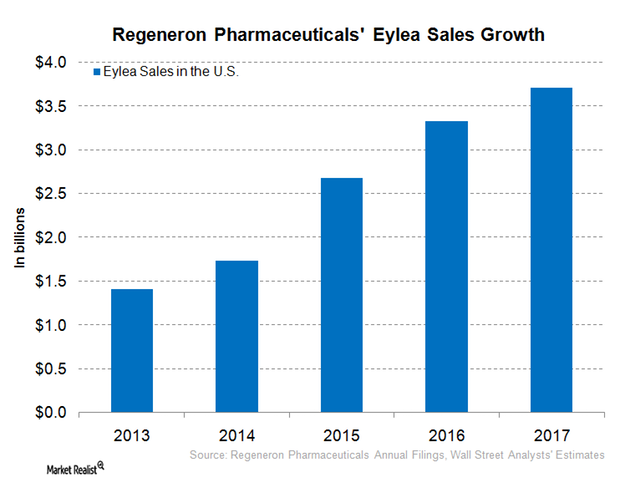 Taking Stock of Regeneron Pharmaceuticals' Marketed Products
By Kenneth Smith

Dec. 4 2020, Updated 10:53 a.m. ET
Eylea injection
Regeneron Pharmaceuticals' (REGN) Eylea injection has been approved for the treatment of wet AMD (age-related macular degeneration), DME (diabetic macular edema), and macular edema post-retinal vein occlusion. It's available in the United States, the European Union, Japan, and other countries. Regeneron is collaborating with Bayer for the global development and commercialization of Eylea outside the US market. Regeneron Pharmaceuticals holds the exclusive rights to Eylea in the United States.
Globally, Eyelea generated $5.9 billion in sales in fiscal 2017 compared with $5.1 billion in fiscal 2016.
Article continues below advertisement
Dupixent injection
The FDA (U.S. Food & Drug Administration) approved Dupixent in March 2017 for the treatment of patients with moderate to severe atopic dermatitis whose symptoms are not adequately controlled with topical therapies. Regeneron Pharmaceuticals launched Dupixent in March 2017. The product received approval in the European Union and Japan in September 2017 and January 2018, respectively.
Regeneron Pharmaceuticals is also collaborating with Sanofi (SNY) for the global development and commercialization of Dupixent. While Regeneron is co-promoting Dupixent in the United States, the company has not utilized this option under the agreement in markets outside the United States.
In fiscal 2017, Dupixent generated sales of $256.5 million.
Praluent injection
The Praluent injection is used as an adjuvant to diet and statin therapy for the treatment of patients with heterozygous familial hypercholesterolemia (or HeFH) who need additional lowering of lipoprotein cholesterol. The injection is marketed in the United States, Japan, and some European countries. Regeneron Pharmaceuticals has collaborated with Sanofi for Praluent sales as well. While Sanofi records sales of the injection, both companies share profits and losses on those sales. For Praluent, Regeneron has utilized the option to co-promote the product in the United States only and not in outside markets.
In fiscal 2017, Praluent generated sales of $194.7 million compared with $116.3 million in fiscal 2016 and $10.5 million in fiscal 2015.
In the next part of this series, we'll take a look at the performance of Regeneron Pharmaceuticals' Kevzara, Arcalyst, and Zaltrap.