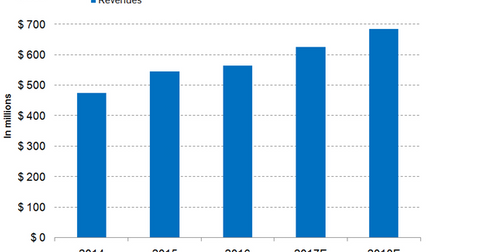 Taking Stock of Globus Medical's Recent Acquisitions
By Kenneth Smith

Updated
A strong history of product launches
Globus Medical (GMED) recently launched a robotic surgical navigation device. The company has a history of rapidly commercializing and developing products and procedures that assist surgeons in effectively treating their patients. Since its inception in 2003, Globus Medical has launched more than 180 products. Its product portfolio consists of a broad array of spinal pathologies, anatomies, and surgical approaches.
Article continues below advertisement
Recent acquisitions: KB Medical, Alphatec International
Globus Medical acquired KB Medical, a Switzerland-based robotic developer, in June 2017. The acquisition is expected to strengthen GMED's development team, intellectual property, and product portfolio.
In September 2016, Globus Medical, through its subsidiary Globus Medical Ireland, acquired from Alphatec Holdings a majority of the assets and liabilities of Alphatec's subsidiaries in the United Kingdom, Italy, the Netherlands, Germany, and Hong Kong. It also included outstanding equity interests of Alphatec's subsidiaries in Japan, Brazil, China, Singapore, and Australia. Globus paid $80.1 million for the transaction. The acquisition provided Globus Medical access to the Japanese market along with an increased presence and penetration in key geographies.
The acquisition is expected to double Globus Medical's international sales.
Geographic segments
Most of Globus Medical's revenue comes from the United States, and the rest comes from its international segment. In 3Q17, the United States contributed $125.9 million compared to $120.4 million in 3Q16. The increase was attributable to an increase in market penetration in existing territories. The international segment contributed $25.8 million in 3Q17 compared to $15.1 million in 3Q16. Growth in international sales was due to the contribution from Alphatec's international sales.
The cash per share ratio for Globus Medical stands at 3.58x. The ratios for peers AtriCure (ATRC) and Inogen (INGN) are 0.99x and 7.86x, respectively.
Globus Medical makes up 0.08% of the Vanguard Small-Cap ETF's (VB) total portfolio holdings.
In the next part of this series, we'll take a look at Globus Medical's business segments.