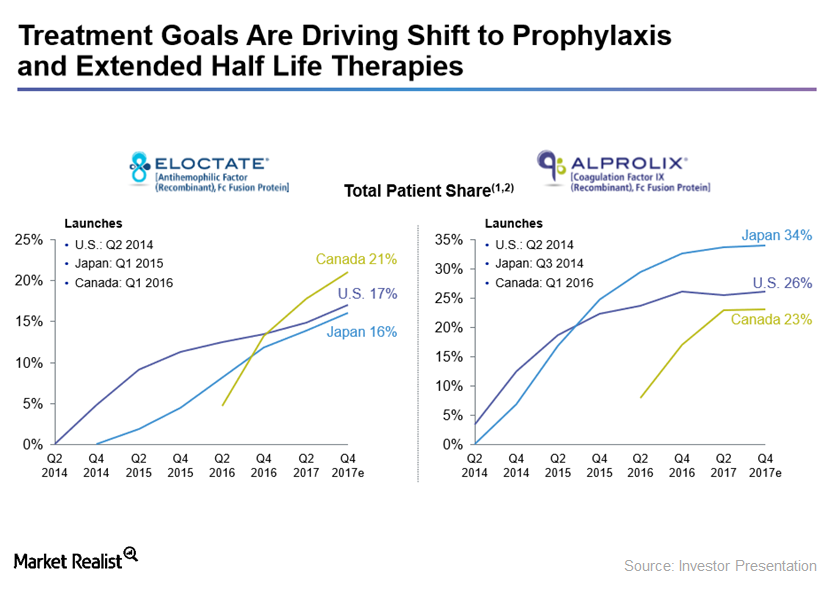 Sanofi Leads the Hemophilia Space on Bioverativ Acquisition
By Sarah Collins

Feb. 7 2018, Updated 1:00 p.m. ET
Sanofi's hemophilia market opportunity
According to Sanofi's (SNY) 2020 road map, the company is focused on sustaining a position of leadership in some of its key markets, including the rare diseases space. The company's acquisition of Bioverativ (BIVV), which is aimed at expanding Sanofi's leadership from genetic diseases into hemophilia, emphasizes this underlying goal.
Celgene (CELG) and Novo Nordisk (NVO) are two other leading players in the hemophilia market. The First Trust BuyWrite Income ETF (FTHI) holds ~0.22% of its total portfolio in SNY.
Article continues below advertisement
Hemophilia is the largest rare disease market, and it's estimated to be growing at 7% per year. It's currently worth $10 billion. According to Sanofi, the identified hemophilia patient population is nearly 180,000, but the true prevalence is expected to be double the identified estimates. Of the total hemophilia patient population, 80% of patients are estimated to be suffering from hemophilia A.
The hemophilia market is gradually shifting from treatment on demand to preventive treatment—that is, prophylaxis. Bioverativ's Eloctate and Alprolix are extended half-life products used for the treatment of hemophilia A and hemophilia B, respectively. These products require less frequent dosing than on-demand, short-acting recombinant clotting factors. These products represent Bioverativ's acknowledgment of the changing trend in the hemophilia market.
Bioverativ acquisition financially and strategically attractive
Sanofi expects to leverage many of its Genzyme core competencies to capitalize on its hemophilia opportunity and expand in the rare blood disorders market with the acquisition of Bioverativ. Sanofi believes the acquisition of Bioverativ is strategically and financially attractive because Bioverativ's portfolio is a complementary fit to its Genzyme business.
Bioverativ's leading hemophilia portfolio positions Sanofi in an immediate leadership position in this market. Further, the acquisition will provide an opportunity for Sanofi to combine Bioverativ's rare blood disorder pipeline with its novel hemophilia agent, fitusiran, which it developed in partnership with Alnylam Pharmaceuticals (ALNY), to leverage the growth of a new platform. Sanofi also expects to maximize its rare blood disorder franchise through emerging market expansion via its acquisition of Bioverativ.
Next, let's take a look at analysts' updates to their recommendations after Sanofi announced its acquisition of Bioverativ.