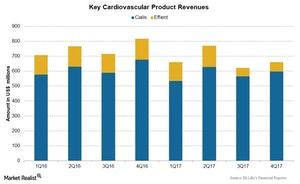 How Eli Lilly's Cardiovascular Portfolio Performed in 4Q17
By Mike Benson

Feb. 22 2018, Published 12:53 p.m. ET
Cardiovascular portfolio
As discussed earlier, Eli Lilly and Company's (LLY) human pharmaceutical business includes cardiovascular products Effient, Cialis, Adcirca, and Reopro. Revenue from Cialis, Effient, and Reopro fell in 4Q17, while Adcirca sales rose marginally.
Article continues below advertisement
Effient
The above chart shows Eli Lilly's cardiovascular revenue since 1Q16. Effient, an antiplatelet drug approved for preventing blood clots in arteries and stents, thereby reducing the chance of heart issues, is approved for use in combination with aspirin. The drug is part of Eli Lilly's collaboration with Daiichi Sankyo. Eli Lilly holds US marketing rights for the drug, while Daiichi Sankyo holds European and Japanese marketing rights.
Effient generated revenue of $62.3 million in 4Q17, falling ~56.0% from the $140.9 million reported in 4Q16. Sanofi's (SNY) and Bristol-Myers Squibb's (BMY) Plavix is another antiplatelet drug.
Cialis
Cialis, a blockbuster drug from Eli Lilly's portfolio, is approved for the treatment of erectile dysfunction and benign prostatic hyperplasia. Cialis generated revenue of $597.4 million in 4Q17, a ~12.0% fall from the $676.3 million seen in 4Q16. The decline was due to lower sales in both US and international markets. US sales fell ~12.7% due to competition from other erectile dysfunction products, and international sales fell ~10.1% due to lower sales. Other drugs for erectile dysfunction are Bayer HealthCare's and GlaxoSmithKline's (GSK) Levitra, and Pfizer's (PFE) Viagra.
Other drugs
Adcirca and Reopro are other Eli Lilly cardiovascular products. Adcirca revenue grew to $24.4 million in 4Q17 from $18.2 million in 4Q16, while Reopro generated revenue of $0.3 million in 4Q17.