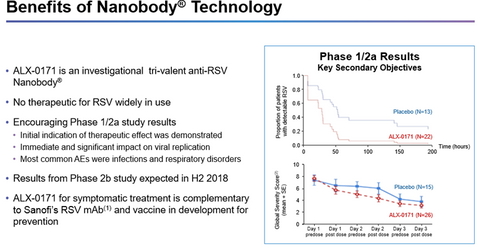 How the Ablynx Acquisition Strengthens Sanofi's R&D Strategy
By Sarah Collins

Updated
Overview
Sanofi (SNY) is consistently investing in and focusing on its R&D (research and development) strategy. The company has a number of key technology platforms driving its multitargeting strategy in R&D. Sanofi spends ~15% of its total sales on R&D.
In recent years, Sanofi has transformed its R&D approach and has shifted toward biologics and combination therapies. The company has been accelerating its efforts toward developing proprietary platforms with multitargeting abilities. The company believes that a single molecule that can address multiple targets is the emerging trend that will drive the future market.
Article continues below advertisement
Peers Merck & Co. (MRK), Novartis (NVS), and Celgene (CELG) spent ~25%, ~15%, and ~45% of their total revenues, respectively, on R&D investments in their most recently ended financial years. Investors can invest in the BLDRS Europe Select ADR ETF (ADRU) for exposure to Sanofi. SNY makes up ~2.7% of ADRU's total portfolio.
Ablynx acquisition fits Sanofi's R&D strategy
Ablynx (ABLX) has a leading biologics platform with an attractive pipeline featuring more than 45 clinical and preclinical programs under development. The company's unique nanobody technology platform has attracted a number of big pharma companies, which have established successful partnerships with Ablynx. The platform provides Sanofi with the ability to utilize Ablynx's nanobodies for its multitargeting approach. Sanofi has already successfully implemented this approach with dupilumab, whereby one antibody is used to attack two targets.
Ablynx's caplacizumab is a promising asset for the company and is in the prelaunch phase. The nanobody is expected to generate significant revenue for Sanofi going forward. Another key product in Ablynx's pipeline is ALX-0171, which is in Phase 2 of its development. It's an inhalable nanobody for the treatment of infants hospitalized with RSV infection. The results of the Phase 2b RESPIRE study of ALX-0171 are expected to be released in 2H18.
Next, we'll discuss why Fitch Ratings provided a negative outlook on Sanofi after the company's acquisition of Ablynx.