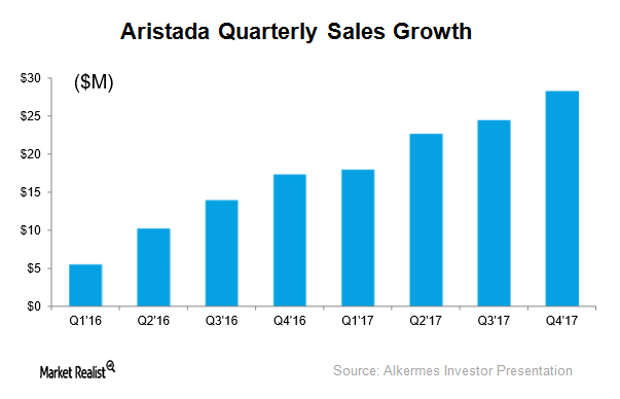 A Deeper Look at Alkermes' Key Marketed Products
By Kenneth Smith

Feb. 26 2018, Updated 11:16 p.m. ET
Aristada for schizophrenia
Alkermes' (ALKS) Aristada is an intramuscular injectable suspension for the treatment of schizophrenia. It's the first product to use Alkermes' proprietary LinkeRx technology. The drug is manufactured and commercialized by Alkermes in the US.
According to Alkermes, ~2.4 million Americans over the age of 18 suffer from schizophrenia each year. Globally, one person in every 100 develops schizophrenia. Moreover, studies have indicated that ~75.0% of schizophrenia patients face difficulty in taking their oral medication regularly, which may lead to further deterioration of their symptoms.
Article continues below advertisement
Vivitrol for alcohol and opioid dependence
Vivitrol is an injectable medication for the treatment of alcohol dependence and to prevent relapse of opioid dependence. Alkermes manufactures and markets Vivitrol in the US. The drug is commercialized in Russia and other CIS countries by Cilag.
Opioid dependence is a chronic brain disease mainly characterized by compulsive prolonged self-administration of opioid substances. According to the 2016 US national survey on drug use and health, ~2.0 million people over the age of 18 have an opioid use disorder.
Alcohol dependence is a chronic brain disease mainly characterized by cravings for alcohol, loss of control over drinking, and an increased tolerance for alcohol. According to the National Survey on Drug Use and Health (or NSDUH), ~8.0 million people over the age of 12 suffer from alcohol dependence.
Collaboration with Janssen Pharmaceutica
Invega Sustenna, Invega Trinza, and Risperdal Consta are products used for the treatment of schizophrenia, and they are owned and commercialized by Janssen Pharmaceutica. Johnson & Johnson (JNJ) is Janssen Pharmaceutica's parent company. These are long-acting atypical antipsychotics that incorporate Alkermes' proprietary technologies.
Alkermes receives royalties from Janssen Pharmaceutica from the sale of these products. During 2017, 2016, and 2015, revenues from Janssen Pharmaceutica contributed 33.0%, 36.0%, and 40.0%, respectively, to Alkermes' total revenues.
Schizophrenia is a condition in which a person experiences symptoms such as delusions, hallucinations, and mood disorders. According to Alkermes, schizophrenia affects approximately one in 100 people.
In the next part of this series, we'll look at Alkermes' products targeted at diabetes.