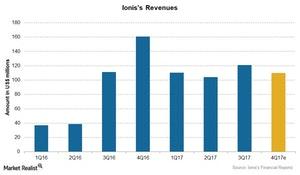 Exploring Ionis's 3Q17 Quarterly Revenue Trend
By Mike Benson

Updated
Ionis in 3Q17
As we discussed earlier, Ionis Pharmaceuticals (IONS) is one of the leading biopharmaceutical companies focused on discovering, developing, and commercializing RNA-targeted (ribonucleic acid) therapies.
Ionis has created a drug discovery platform and developed many drugs for the treatment of various life-threatening diseases through this broadly applicable platform.
The above chart compares Ionis's revenues over the last few quarters.
Article continues below advertisement
Revenue
Ionis's revenue sources include its commercial revenue, including its Spinraza royalties and licensing and royalty revenues, and its research and development revenue under its collaborative agreements. In 3Q17, Ionis reported revenue of $120.9 million, a rise of 9% compared to its revenue of $110.9 million in 3Q16. In 4Q17, Wall Street analysts expect revenue of $109.9 million for the company, a 31.5% fall compared to its 4Q16 revenue.
Key drugs portfolio
Below are some of the products that have been developed by Ionis, including drugs from its severe and rare franchise:
Spinraza (nusinersen) is a drug approved for the treatment of pediatric and adult patients with spinal muscular atrophy. The drug is codeveloped with Biogen (BIIB), and Biogen holds the development, manufacturing, and commercialization licenses for the drug.
Alicaforsen is a drug developed for the treatment pouchitis. Atlantic Healthcare holds the exclusive worldwide development and commercialization licenses for Alicaforsen.
The Kynamro injection is developed for the treatment of homozygous familial hypercholesterolemia. The Kynamro injection has been approved by the FDA, and it's also been approved in a few other countries. Kastle Therapeutics, a Sanofi (SNY) subsidiary, holds the worldwide development and commercialization rights for the Kynamro injection.
A few other drugs from Ionis's late-stage pipeline include the following:
Plazomicin, a drug developed for the treatment of severe bacterial infection, is under Phase III development. The drug is codeveloped with Achaogen.
Inotersen, or Ionis-TTRRx, is a drug developed for the treatment of patients with transthyretin amyloidosis. Transthyretin amyloidosis is a fatal disease in which amyloid plaque deposits in tissues increase progressively in the patient's body. Inotersen is also under Phase III development.
Volanesorsen is developed for the treatment of familial chylomicronemia syndrome and familial partial lipodystrophy. Volanesorsen is also under Phase III clinical development.
The PowerShares Dynamic Biotechnology & Genome ETF (PBE) holds 2.3% of its total investments in Ionis Pharmaceuticals, 5.0% in Biogen, 4.6% in Gilead Sciences (GILD), and 4.6% in Celgene (CELG).