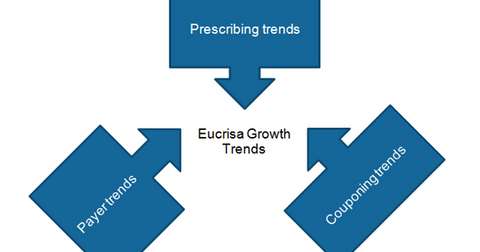 Pfizer Expects Eucrisa to Report Sales of ~$2.0 Billion
By Margaret Patrick

Updated
Eucrisa growth trends
On December 14, 2016, Pfizer (PFE) announced that it had secured FDA approval for its mild-to-moderate AD (atopic dermatitis) therapy, Eucrisa (crisaborole) 2% ointment, for patients over two years old. This drug was added to Pfizer's portfolio through the acquisition of Anacor Pharmaceuticals, which was completed in June 2016 for ~$5.2 billion. Pfizer accounts for ~6.0% of the Vanguard Health Care ETF (VHT).
Prescribing trends
In 3Q17, ~83,000 patients used Eucrisa, almost double the number of patients using the drug in 2Q17. The drug has been prescribed by more than 20,000 physicians, of which 60% are repeat prescribers. Eucrisa has a very robust safety profile and can be administered to infants with AD. Based on strong demand trends, Pfizer expects Eucrisa to report peak sales of ~$2.0 billion.
Couponing trends
Whereas Pfizer's free sample program for Eucrisa has expired, the company will ensure its affordability through a standard co-pay card. In the next article, we'll look at Pfizer's biosimilar portfolio's growth prospects.