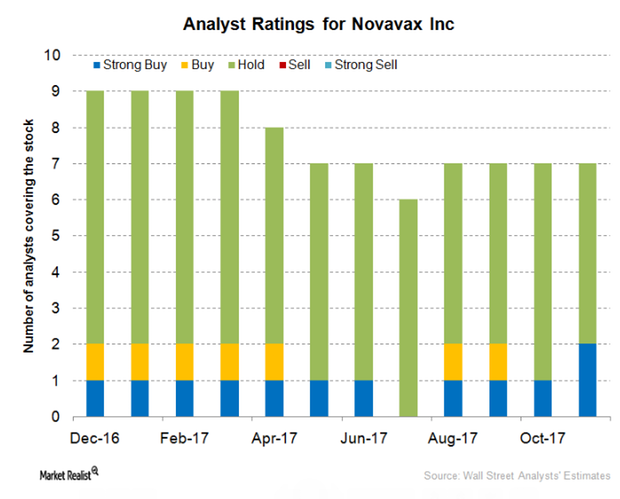 Inside Analysts' Recommendations for Novavax in November 2017
By Kenneth Smith

Dec. 6 2017, Published 11:47 a.m. ET
Overview
Novavax (NVAX) is a clinical-stage biotech company with a focus on nanoparticle vaccines and adjuvants. The company's pipeline includes products for the respiratory syncytial virus (or RSV), influenza, Ebola virus, and Zika virus. The company has one Swedish subsidiary, Novavax AB.
Novavax has a joint venture with Cadila Pharmaceuticals in India—CPL Biologicals Pvt. Ltd. (or CPLB). CPLB is developing vaccine candidates and operates a vaccine manufacturing facility. It received marketing authorization for its virus-like particle (or VLP) influenza vaccines, sales of which are expected to be reported in 2017.
CPLB started a Phase 3 trial in India for its rabies vaccine in October 2016, and results from the trial are expected in 2018. The vaccine would require only three doses, lower than the five doses currently required for rabies vaccinations.
Article continues below advertisement
Analysts' recommendations for Novavax
Of the seven analysts covering Novavax (NVAX) in November 2017, two analysts gave the stock a "strong buy" rating, and five analysts gave the stock a "hold" rating. No analysts assigned a "sell" rating. The mean rating for the stock is ~2.4 with a target price of $1.68.
Novavax makes up ~3.3% of the Vanguard Small-Cap Growth ETF's (VBK) total portfolio holdings.
Peer ratings
Of the 30 analysts covering GlaxoSmithKline (GSK) in November 2017, 11 analysts gave the stock a "buy" or higher rating. Four analysts gave the stock a "sell" or lower rating.
Of the 34 analysts covering AstraZeneca (AZN), 21 analysts gave the stock a "buy" or higher rating. Two of the three analysts covering Sanofi (SNY) gave the stock a "strong buy" rating in November 2017.
In the next part of this series, we'll take a look at Novavax's current pipeline of products.