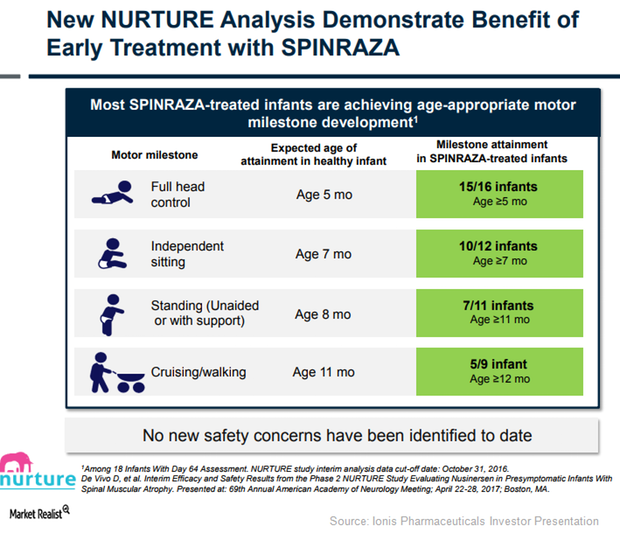 Geographic Market Expansion to Boost Spinraza Sales in 2017
By Margaret Patrick

Oct. 30 2017, Updated 7:32 a.m. ET
Geographic market expansion
In 3Q17, Biogen (BIIB) and Ionis Pharmaceuticals' (IONS) Spinraza reported sales worth $73 million from international markets. The drug's revenues and volumes in launches outside the US in 3Q17 exceeded those reported by Spinraza during the first quarter of its launch in the US. The drug has already been launched in 11 European countries, while there was also a rise in sales of the drug to named patients in Latin America and the Middle East.
By the end of 3Q17, Biogen had submitted 20 dossiers for determining pricing and securing reimbursement in Europe. Spinraza also secured regulatory approval in Brazil and Switzerland in 3Q17, while the drug awaits regulatory approval in Argentina.
Article continues below advertisement
In 3Q17, about 10% of Spinraza's US revenues were attributed to patients using the drug as maintenance therapy. These patients had taken their four doses as loading regimens in previous quarters. A major part of the 75% quarter-over-quarter growth in Spinraza's patients in 3Q17 came from spinal muscular atrophy (or SMA) patients on the initial dosing regimen.
Around 65% of the patients in the US using Spinraza are affected by type two and type three SMA. Further, 20% of the patients are above 15 years of age. Since Spinraza is currently being prescribed to most serious patients, there remains significant unmet demand in other patient segments, which could help boost revenues for Biogen and royalty income for Ionis Pharmaceuticals in the future.
Ionis Pharmaceuticals makes up about 3.6% of the First Trust NYSE Arca Biotechnology Index Fund's (FBT) total portfolio holdings.
Spinraza efficacy
In addition to late-onset SMA patients, interim data from the ongoing phase two trial, NURTURE, has demonstrated Spinraza's efficacy in infants with genetically diagnosed SMA who have not yet shown disease symptoms.
Spinraza can play a pivotal role in transforming the treatment paradigm in the type two SMA segment, where patients have to undergo spinal fusion surgery to correct deformities. Despite the involved complexities, physicians have been striving to administer Spinraza to these patients through intrathecal injection.
Spinraza has enabled Ionis Pharmaceuticals to become a major neurodegenerative disease player, similar to peers such as  Neurocrine Biosciences (NBIX) and Alnylam Pharmaceuticals (ALNY).
In the next article, we'll discuss future revenue trends for Spinraza in the SMA segment in greater detail.