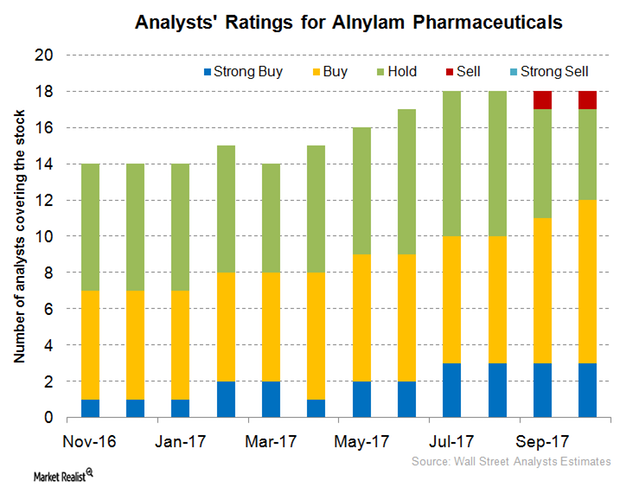 What Analysts Recommend for Alnylam Pharmaceuticals and Peers
By Margaret Patrick

Oct. 31 2017, Updated 2:09 p.m. ET
Growth drivers
On September 20, 2017, Alnylam Pharmaceuticals (ALNY) announced positive top-line results from phase three trial APOLLO, which evaluated the clinical profile of investigational RNAi therapeutic Patisiran in patients suffering from polyneuropathy associated with hereditary ATTR (or hATTR) amyloidosis. In addition to being a major milestone for Alnylam Pharmaceuticals, this trial has demonstrated for the first time the clinical potential of the silencing of the disease-causing gene due to the double-stranded RNA-mediated interference mechanism. Alnylam Pharmaceuticals expects detailed results from the APOLLO trial in November 2017.
Article continues below advertisement
Based on these results, the company has planned to file a new drug application (or NDA) with the U.S. Food and Drug Administration (or FDA) seeking approval for Patisiran in polyneuropathy associated with a hATTR indication in late 2017. Alnylam Pharmaceuticals has also planned to file a marketing authorization with the European Commission for Patisiran in early 2018. After regulatory approval, the company anticipates the commercial launch of Patisiran after mid-2018.
hATTR amyloidosis is caused by abnormal mutations in the transthyretin or TTR gene, which result in amyloid deposits and subsequent damage to multiple organs of the body. Polyneuropathy or cardiomyopathy are the most common manifestations of this disease. With approximately 50,000 patients suffering from this disease across the world and no approved medication available, there is significant unmet demand available for Alnylam Pharmaceuticals' investigational therapy, Patisiran.
Notably, Alnylam Pharmaceuticals makes up about 1.6% of the iShares Nasdaq Biotechnology ETF's (IBB) total portfolio holdings.
Analysts' recommendations for Alnylam Pharmaceuticals and peers
Of the 18 analysts covering Alnylam Pharmaceuticals in October 2017, three have rated the stock a "strong buy," nine have rated it a "buy," five have rated it a "hold," and one has rated it a "sell."
Out of the 15 analysts covering Ionis Pharmaceuticals (IONS) in October 2017, approximately 33.3% have rated the company a "buy." Approximately 83% of the six analysts covering Ligand Pharmaceuticals (LGND) have given it a "buy" recommendation, while 75.0% of the analysts tracking Jazz Pharmaceuticals (JAZZ) have rated it a "buy."
In the next article, we'll discuss growth prospects for Patisiran in greater detail.