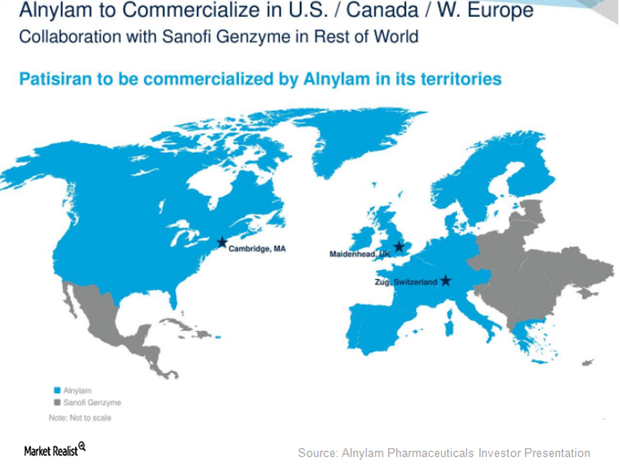 Alnylam Is Preparing for Commercial Launch of Patisiran
By Margaret Patrick

Oct. 31 2017, Updated 4:50 p.m. ET
Commercial launch preparations
To ensure the smooth commercial launch of investigational RNAi therapy Patisiran, Alnylam Pharmaceuticals (ALNY) has been actively involved in building its manufacturing, quality, and distribution infrastructure in the US and Europe. The company has also entered multiple medical science liaisons to bolster the efforts of its medical affairs team to create awareness for hereditary ATTR (or hATTR) amyloidosis in the US, Canada, and Europe. The company has created a solid commercial organization in the US and Europe, which will be responsible for marketing, distribution, access, and patient hub activities related to Patisiran. The company is also seeking counsel from experienced leaders at its European headquarters, Zug, as well as from country-level organizations well-versed in the impact and treatment of rare diseases in European markets such as France, Germany, Italy, United Kingdom, Iberian Peninsula, and Nordics.
Article continues below advertisement
The positive top-line results from phase three trial APOLLO have increased the confidence of Alnylam Pharmaceuticals in the commercial growth prospects of Patisiran. The company plans to expand its field-based team in the US, Canada, and Western Europe to educate physicians and patients as well as ensure access to Patisiran after its regulatory approval. Alnylam Pharmaceuticals makes up about 3.5% of the First Trust NYSE Arca Biotechnology Index Fund's (FBT) total portfolio holdings.
The above diagram shows the distribution of geographies between Alnylam Pharmaceuticals and partner Sanofi (SNY) related to the commercialization of Patisiran.
Awareness initiatives
Alnylam Pharmaceuticals has also set up two websites to educate healthcare professionals, patients, and caregivers about the nature of hATTR amyloidosis and challenges in accurately diagnosing the condition. The company has also launched the Alnylam Act program in the US to provide free genetic testing and counseling services, thus aiding physicians in accurately diagnosing the disease. To date, around 2,000 patient tests have been submitted, while there are 300 active accounts under this program.
The success of these initiatives will enable Alnylam Pharmaceuticals to compete effectively with existing and potential hATTR amyloidosis players such as Pfizer (PFE) and Ionis Pharmaceuticals (IONS).
In the next article, we will discuss growth prospects of investigational therapy, Fitusiran, in greater detail.