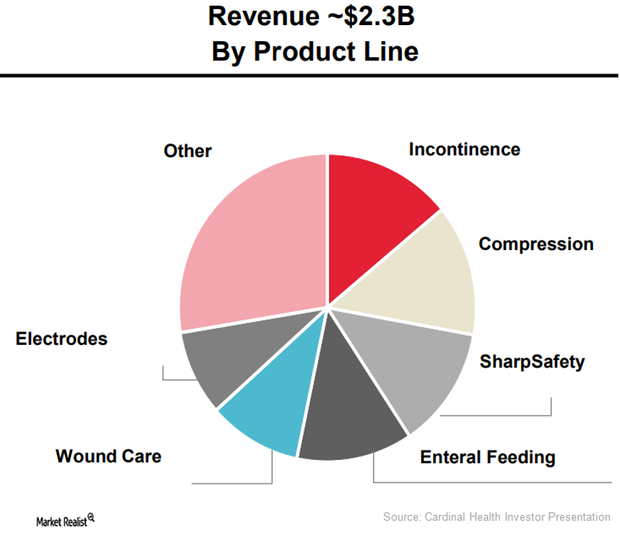 Patient Recovery Acquisition May Boost Cardinal Health's Revenues
By Margaret Patrick

Oct. 6 2017, Updated 10:40 a.m. ET
Patient recovery business
On July 30, 2017, Cardinal Health (CAH) completed the acquisition of Medtronic's patient recovery business for an all-cash consideration worth $6.1 billion. About $4.5 billion of the value of that deal was funded by the new issuance of senior unsecured notes. The remaining consideration was funded by cash on hand and $700.0 million worth of borrowings compliant with the existing credit arrangements. Cardinal Health expects tax benefits worth $100.0 million for the deal.
Article continues below advertisement
The deal has expanded Cardinal Health's Medical segment portfolio to 23 product categories, including wound care, urology, enteral feeding, electrode and needle, syringe and sharps disposal, operating room supply, and incontinence across various market settings. The subsequent portfolio expansion and geographic market consolidation could enable Cardinal Health to compete more effectively with other drug wholesalers such as AmerisourceBergen (ABC), Express Scripts (ESRX), and McKesson (MCK).
The above diagram shows the distribution of product lines acquired by Cardinal Health through the Patient Recovery business acquisition.
Deal benefits
For fiscal 2018, Cardinal Health expects this deal to result in an accretion of $0.21 to the company's non-GAAP (generally accepted accounting principles) EPS (earnings per share) from continuing operations.
Despite the increase in net interest and other expenses to $340 million–$360 million associated with the debt issued for the deal, the company remains confident it can reduce its adjusted debt to non-GAAP EBITDA (earnings before interest, tax, depreciation, and amortization) ratio to 2.0x by the end of fiscal 2020. That can be attributed to Cardinal Health's credit ratings, the growth prospects of its acquired business, and the focus of the company on repaying $1.5 billion of debt by the end of fiscal 2020.
The company has projected $100.0 million worth of inventory for the acquired Patient Recovery business in the first half of fiscal 2018. Cardinal Health also expects to witness $0.39 worth of incremental annual financing-related interest expense in fiscal 2018. While the increased expenses may partially affect the company's margins in fiscal 2018, the deal is expected to prove highly lucrative beyond fiscal 2019.
Cardinal Health makes up 0.55% of the iShares Russell Mid-Cap Value's (IWS) portfolio holdings.