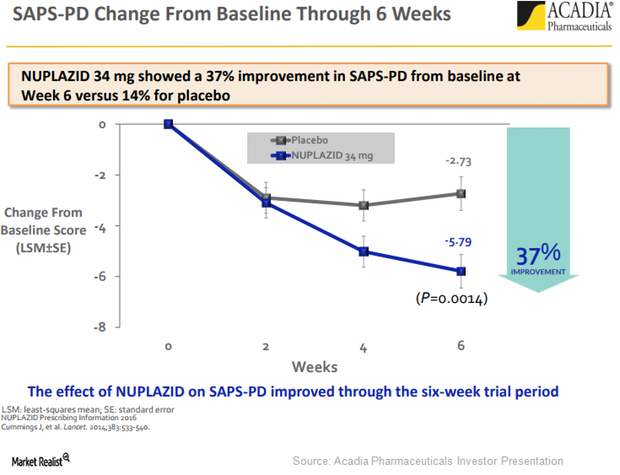 Nuplazid Expected to Become a Leading Central Nervous System Drug
By Margaret Patrick

Sep. 8 2017, Updated 2:01 p.m. ET
Nuplazid's regulatory approval
On April 29, 2016, the FDA (U.S. Food & Drug Administration) approved Acadia Pharmaceuticals' (ACAD) Nuplazid (pimavanserin) as a first therapy for treating patients with Parkinson's disease (or PD) psychosis. Currently, Nuplazid is the only FDA-approved drug for reducing hallucinations and delusions in PD psychosis patients without affecting their motor functions. This selective serotonin inverse agonist that targets 5-HT2A receptors has demonstrated a favorable tolerability in the adult patient population.
Nuplazid has the potential to make Acadia Pharmaceuticals a major neurology player similar to its peers Allergan (AGN), Pfizer (PFE), and Novartis (NVS).
The above diagram shows that a 34 mg (milligram) dosage of Nuplazid managed to demonstrate a 37.0% improvement in PD psychosis patients over a period of six weeks, based on a nine-item Scale for Assessment of Positive Symptoms for Parkinson's disease.
Since the approved drug dosage is 34 mg, Acadia Pharmaceuticals plans to launch a 34 mg Nuplazid capsule to replace the currently marketed 17 mg pill.
Article continues below advertisement
Awareness programs
To establish Nuplazid as a standard of care for PD psychosis patients, Acadia Pharmaceuticals is focusing on about 12,000 neurologists. In 2Q17, the company expanded its sales force by 25 members, getting the total team strength close to 155, mainly to focus on an increasing penetration of Nuplazid in long-term care settings.
Increasing awareness has also led to improved payer access and reimbursement criteria for Nuplazid. The drug is currently covered by all Medicare Part D formularies and commercial lives covered as high as 94.0%.
As Acadia Pharmaceuticals continues with its physician and prescriber awareness campaigns, which involve medical meetings, direct-to-patient programs, multimedia campaigns, and key opinion leader programs, Nuplazid may continue to witness a much faster uptake in the United States. That's expected to help boost the company's stock as well as the stock of the First Trust NYSE Arca Biotechnology ETF (FBT). Acadia Pharmaceuticals makes up about 3.8% of FBT's total portfolio holdings.
In the next part of this series, we'll look at physician and patient adoption of Nuplazid.