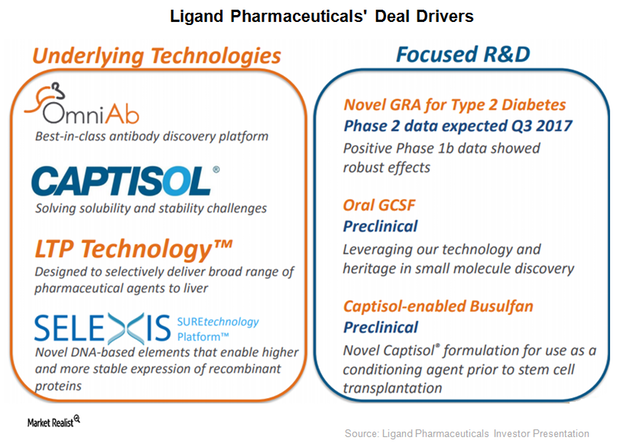 Technology Platforms and Research Programs Drive LGND's Partnerships
By Margaret Patrick

Aug. 31 2017, Updated 10:36 a.m. ET
Technology platforms
Ligand Pharmaceuticals (LGND) has entered multiple fully funded partnerships by licensing its technology platforms such as OmniAb, Captisol, LTP Technology, and SUREtechnology Platform.
Captisol is a patented and uniquely modified cyclodextrin used to improve the bioavailability, solubility, stability, and overall safety of the active pharmaceutical ingredients (or APIs) in drugs. Around 39% of Ligand Pharmaceuticals' research programs involve the use of the Captisol technology platform.
Article continues below advertisement
Acquired from Selexis and based on novel DNA-based elements, the SUREtechnology Platform is used to improve the utilization of cells, accelerating clinical development and reducing manufacturing time, boosting overall yield, and improving the stability of recombinant proteins and other drugs. This technology platform accounts for around 23% of Ligand Pharmaceuticals' research programs.
LTP technology is a platform used to develop prodrugs that are used to deliver multiple agents to the liver. Around 19% of Ligand Pharmaceuticals' research programs are based on this technology.
OmniAb technologies, which are used for developing fully human antibody drugs, account for the remaining 19% of Ligand Pharmaceuticals' total research programs.
Ligand Pharmaceuticals makes up about 0.27% of the iShares Russell 2000 Growth ETF (IWO).
The chart above shows Ligand Pharmaceuticals' underlying technologies and research and development (or R&D) programs that are expected to result in new and potentially profitable deals for the company. The new partnerships could strengthen investor sentiment for Ligand Pharmaceuticals.
R&D pipeline
Ligand Pharmaceuticals expects to release top-line data from the Phase 2 trial evaluating Glucagon Receptor Antagonist (or GRA), LGD-6972, in Type 2 diabetes in September 2017. The company also plans to present data from a crossover study comparing the bioavailability of Captisol-enabled LGD-6972 to the oral formulation of the drug in September 2017.
In addition to this mid-stage program, Ligand Pharmaceuticals is also exploring oral granulocyte colony stimulating factor (or G-CSF) receptor agonist in neutropenia indication and Captisol-enabled Busulfan as a conditioning agent for stem cell transplant patients in preclinical trials.
In the next article, we will discuss Ligand Pharmaceuticals' capital deployment strategy.