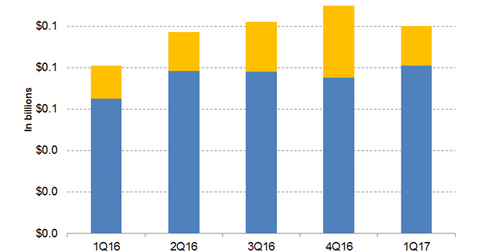 BioMarin Expects These Drugs to Generate Steady Revenues
By Daniel Collins

Updated
Naglazyme revenue trends
In 2016, BioMarin Pharmaceuticals' (BMRN) Naglazyme generated revenues of around $297 million, a ~2% year-over-year (or YoY) decline. The company claimed that the negative impact of foreign exchange currency rates and the timing of the orders from the Latin American government primarily led to the decrease in the drug's revenues in 2016.
In 1Q17, Naglazyme generated revenues of around $81 million, which reflected a ~25% YoY growth and 8% quarter-over-quarter (or QoQ) growth. The company witnessed consistent growth in the number of patients on Naglazyme therapy to a tune of ~9% YoY. The company attributed 1Q17 growth to forward buying in the Middle East markets. In 1Q17, Naglazyme sales also benefitted from orders from Brazil. 
Article continues below advertisement
About Naglazyme
Naglazyme (galsulfase) is indicated for the treatment of Maroteaux‐Lamy syndrome or Mucopolysaccharidosis VI (or MPS VI). MPS VI is a genetic disorder manifested due to deficiency of arylsulfatase B. Arylsulfatase B is responsible for the breakdown of glycosaminoglycans (or GAGs) formed in the cells. When GAGs aren't broken down and recycled, various symptoms can occur. Primary symptoms include spinal cord compression, growth inhibition, enlargement of the liver and spleen, and joint and skeletal deformities. Cardiovascular functions, reduced pulmonary function, obstruction of the upper airway, and various other metabolic abnormalities can occur as the disease progresses. Naglazyme demonstrated improvement in patients' ability to walk and climb stairs.
BioMarin's peers in the rare metabolic disorders market include Shire Pharmaceuticals, Alexion Pharmaceuticals (ALXN), Ionis Pharmaceuticals, Amgen (AMGN), Sanofi, and others. The above graph characterizes the revenue trajectory of Naglazyme and Aldurazyme from 1Q16 to 1Q17.
Aldurazyme revenue trends
In 2016, Aldurazyme reported revenues of around $93.8 million, which reflected a 4% YoY decline. In 1Q17, Aldurazyme generated revenues of around $19 million, which is ~19% YoY growth.
About Aldurazyme
Aldurazyme was developed by BioMarin Pharmaceuticals in collaboration with Genzyme, a subsidiary of Sanofi (SNY). Aldurazyme is indicated in patients with mucopolysaccharidosis I (or MPS I). MPS I is a lysosomal enzyme abnormality. The Vanguard Mid-Cap Growth ETF (VOT) invests ~0.96% of its total portfolio holdings in BioMarin Pharmaceuticals.