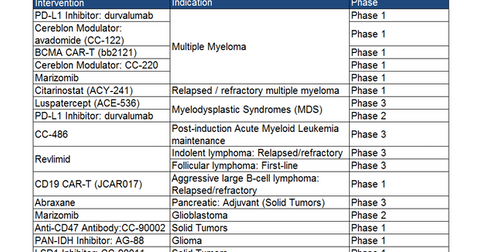 An Overview of Celgene's Hematology and Oncology Pipeline
By Daniel Collins

Jun. 21 2017, Updated 9:38 a.m. ET
Oncology pipeline trends
In December 2016, Celgene and Juno Therapeutics' (JUNO) novel investigational drug, JCAR017, was given breakthrough designation by the US Food and Drug Administration (or FDA). The drug is being tested as a treatment option for relapsed/refractory aggressive large B-cell non-Hodgkin lymphoma patients. Celgene is also undertaking investigational studies with the same drug for diffuse large B-cell lymphoma. The drug is currently in phase one of the clinical trial development process.
Article continues below advertisement
In March 2017, the US FDA accepted Celgene's (CELG) and Agios Pharmaceuticals' (AGIO) new drug application (or NDA) seeking approval for enasidenib for the treatment of relapsed or refractory acute myeloid leukemia patients with the IDH2 mutation. The drug has been given the brand name IDHIFA. The commercial launch of the drug may boost Celgene's revenue growth further.

Currently, Celgene has seven investigational drugs that are in various phases of the clinical trial development process for lymphoma and leukemia indications, nine novel drugs for myeloid diseases, and 13 new drugs for solid tumors. These include those drugs that have already received approval for certain indications but are being studied for additional labels. These drugs highlight the strength of Celgene's research and development (or R&D) pipeline in areas beyond multiple myeloma. The above table outlines the company's ongoing clinical trials.
Enasidenib's mechanism of action
Enasidenib is an inhibitor of isocitrate dehydrogenase 2 (or IDH2), which is an important metabolite in the citric acid cycle. When IDH undergoes mutation, increased levels of 2-hydroxyglutarate are released, which contributes to tumor cell growth. IDH 1 and IDH 2 help catalyze the reaction in cytoplasm and mitochondria, respectively. The drug is an IDH2 inhibitor, which disrupts the citric acid cycle, thus preventing tumor cell growth.
The success of Celgene's oncology/hematology portfolio could fuel the Vanguard S&P 500 ETF (VOO). Celgene makes up ~0.44% of VOO's total portfolio holdings. Celgene's close peer Amgen (AMGN) makes up ~0.58% of VOO's total portfolio holdings.