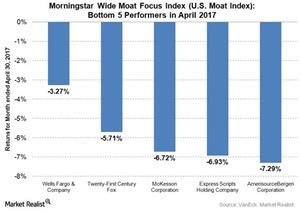 Primary Detractor in the U.S. Moat Index's Performance in April
By VanEck

Updated
VanEck
U.S. Domestic Moats (Contd…)
The primary detractor from U.S. Moat Index performance in April was healthcare companies, particularly pharmaceutical supply chain companies. Express Scripts Holding Co. (ESRX US, -6.93%) saw its fair value estimate lowered by Morningstar analysts due to the near-term impact of expectations that Anthem, Inc. will not renew its contract with the firm following its expiration in 2017. McKesson Corp. (MCK US, -6.72%) and AmerisourceBergen Corp. (ABC US, -7.29%), other major pharmaceutical distributors, also struggled in April.
Article continues below advertisement
Market Realist
Healthcare sector has been challenged
The most challenged sector since the US election has been the healthcare sector. President Trump proposed to revive the healthcare sector. President Trump's first executive order was to undertake prompt actions to repeal the ACA (Affordable Care Act). Repealing the ACA is expected to hamper hospital stocks and benefit life science and pharmaceutical companies.
President Trump also plans to allow US manufactured drugs to be re-imported. He wants price transparency from all healthcare providers, which could have a negative impact on hospitals and drug manufacturers. As of April 30, 2017, the healthcare sector (XLV) has risen 10% since the election.
Detractors
For April, the top three detractors the Morningstar Wide Moat Focus Index (MOAT) were healthcare companies like AmerisourceBergen (ABC), Express Scripts Holding Company (ESRX), and McKesson (MCK). They posted negative returns of 7.2%, 6.9%, and 6.7%. Despite strong 1Q17 results reported at the end of January, AmerisourceBergen has fallen 6%.
Express Scripts shares have fallen since April 24 after it reported its 1Q17 results and expectations of Anthem renewing its contract looked hazy. The Wall Street Journal reported that Express Scripts could lose one of its biggest customers. The company earns $17.1 billion in annual revenue from Anthem.
McKesson stock started falling after it reported unimpressive 3Q17 results with lower earnings of 3% on January 25. Recent controversy between Arkansas executions and McKesson caused the stock to fall more—it has fallen 8%. Other stocks that provided negative returns in April include 21st Century Fox (FOXA) and Wells Fargo (WFC).