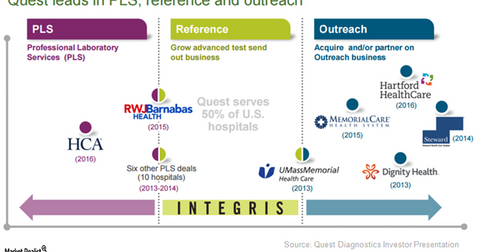 Quest Diagnostics' Reference Testing, Hospital Outreach Segment
By Margaret Patrick

Updated
Reference testing
With services offered to about half of the total hospitals, Quest Diagnostics (DGX) has become a leading provider of reference testing or esoteric testing services in the United States. The reference testing market is related to advanced and specialized testing services in areas such as oncology, infectious diseases, immunology, and women's health. For infectious diseases and immunology, hospitals require reference testing services for diseases such as Hepatitis C and the Zika virus.
Since a specialized infrastructure and a skilled workforce are required to provide these services, there are significant entry barriers in this $4.0 billion market segment.
If Quest Diagnostics continues to expand its penetration in the reference testing segment, it may have a positive impact on the stock and the Vanguard Value ETF (VTV). Quest Diagnostics makes up about 0.14% of VTV's total portfolio holdings.
Article continues below advertisement
Outreach opportunity
The hospital outreach segment currently makes up about 35.0% of the out-of-hospital laboratory market in the United States. These outreach centers are mainly involved in performing routine tests and account for $17.0 billion of the market value.
Until recently, hospitals have been charging higher rates to payers compared to those charged by Quest Diagnostics and other independent laboratories. However, increasing pricing pressures on hospitals, a move toward bundled payments, changing technology, workforce constraints, capital expenditure, and pricing sensitivity of customers with high deductible plans have forced many hospitals to monetize this business. To capitalize on this opportunity, Quest Diagnostics is actively working with hospitals to partner or acquire their outreach businesses.
An increased focus on reference testing and hospital outreach opportunity may enable Quest Diagnostics to compete more effectively with peers such as Laboratory Corporation of America Holdings (LH), DaVita HealthCare Partners (DVA), and Idexx Laboratories (IDXX).
In the next part of this series, we'll take a look at Quest Diagnostics' strategy to introduce operational efficiencies in 2017.