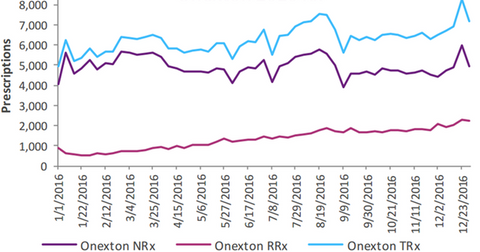 New Product Launches May Boost Valeant's Dermatology Revenue
By Margaret Patrick

Updated
New product launches
Despite upcoming patent expirations for drugs Elidel, Solodyn, and Acanya in 2018, and Zyclara in 2019, Valeant Pharmaceuticals (VRX) expects to boost its dermatology revenue after 2018 through new product launches.
On December 12, 2016, the company hired Bill Humpries as executive vice president and head of the dermatology team. The change in leadership may play a pivotal role in restoring the reputation of the company's dermatology drugs among physicians, patients, payers, and the overall marketplace. Valeant plans to launch Siliq (brodalumab) in the US market in mid-2017.
If these projections materialize, its share price and that of the PowerShares Dynamic Pharmaceuticals ETF (PJP) could rise. Valeant Pharmaceuticals makes up about 2.7% of PJP's portfolio.
Article continues below advertisement
Prescription trends
Throughout 2016, Valeant Pharmaceuticals' dermatology drug, Onexton, witnessed a steady rise in new, refilled, and total prescriptions. Dermatology drug Jublia's refill prescriptions also recovered in 2016. Valeant poses strong competition to dermatology players Novartis (NVS), Sanofi (SNY), and Anacor Pharmaceuticals (ANAC). To learn more about Jublia, please refer to Jublia: Valeant's Major Drug in Its Dermatology Portfolio.
Walgreen partnership
Valeant Pharmaceuticals plans to strengthen its relationship with its distribution partner, Walgreens. It also plans to commence a generic pilot program brand at Walgreens in 2017. The company has expanded its market access team, which will support Walgreens in effectively distributing its products.
The prior authorization process, coupled with increased co-pays, played an important role in improving the average selling price (or ASP) for products sold by Walgreens between 1Q16 and 3Q16, as well as 3Q16 and 4Q16. The company, however, does not anticipate any significant rise in ASPs at Walgreens in 2017. To learn more about Valeant's efforts towards improving ASPs, please refer to Valeant Looks to Boost Profit Margins through the Walgreens Deal. In the next article, we'll explore growth potential for Valeant Pharmaceuticals' new drug, Siliq, in greater detail.