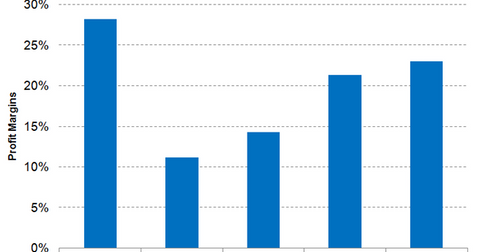 Merck Expected to Witness Rise in Its Net Profit Margin in 2017
By Margaret Patrick

Updated
EPS guidance
For 2017, Merck & Co. (MRK) has projected its generally accepted accounting principles (or GAAP) earnings per share (or EPS) to fall in the range of $2.47–$2.62. The company has estimated its non-GAAP EPS to fall in the range of $3.72–$3.87 in 2017.
Merck has also assumed that unfavorable foreign currency fluctuations will negatively affect its 2017 EPS by ~2%. Excluding the impact of foreign currency movements, the company expects its non-GAAP EPS to be ~4% higher in 2017 on a year-over-year (or YoY) basis.
Article continues below advertisement
Robust rise in net profit margins
Wall Street analysts expect Merck's 2017 net profit margins to be ~21.3%, ~700 basis points higher than what was reported by the company in 2016.
If Merck manages to surpass these margin estimates in 2017, its share price could see a boost, as could the share price of the Vanguard Value ETF (VTV). Merck makes up ~1.6% of VTV's total portfolio holdings.
In 2017, peers Bristol-Myers Squibb (BMY), Pfizer (PFE), and AstraZeneca (AZN) are expected to report revenues of ~23.6%, 22.7%, and 12.7%, respectively.
Keytruda label expansion
In 2017, Merck is expected to witness intense generic competition due to its loss of patent exclusivity for many of its mature brands.
In January 2017, Merck entered into global patent license agreement with Bristol-Myers Squibb (BMY) and Ono Pharmaceutical Company. According to this agreement, all patent infringement litigations related to Keytruda will be dismissed. In return, Merck will have to pay $625 million up front to Bristol-Myers Squibb and Ono Pharmaceutical Company.
Further, from January 1, 2017, to December 31, 2023, Merck will have to pay a royalty of 6.5% of Keytruda's global sales. The royalty rate will be reduced to 2.5% of Keytruda's global sales from January 1, 2024, to December 31, 2026.
Despite these headwinds, Merck is confident in witnessing a rise in product gross margins in 2017 due to a probable label expansion of Keytruda in combination with chemotherapy as a first- line treatment option for metastatic non-squamous non-small cell lung cancer, which is subsequently expected to culminate in increasing sales of the drug.
In the next article, we'll analyze 2017 trends for Keytruda in greater detail.