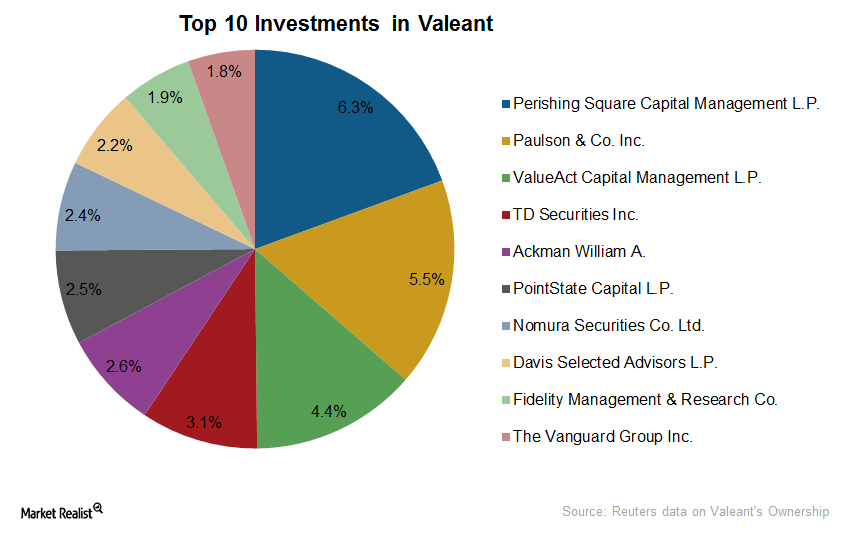 What Does Valeant's Institutional Ownership Look Like?
What are the top ten holdings in Valeant?
Of its total outstanding shares, Valeant Pharmaceuticals' (VRX) institutional ownership stood at 69.2%. On September 30, 2016, Bill Ackman's Pershing Square Capital Management had the largest stake in Valeant's stock at 6.3%. Pershing was followed by Paulson & Co. with 5.5% ownership.
Bill Ackman himself holds an additional 2.6% in Valeant. There's been marked volatility, and quite a fall, for Valeant's stock over the past year. For more information, read Valeant: The Rise and Fall of a Giant Specialty Pharmaceutical.
Valeant is currently quite a risky bet. However, if you can bear the volatility and want exposure to the company, you can invest in the Vanguard FTSE All-World ex-US ETF (VEU) for diversified exposure. VEU holds 0.02% of its assets in Valeant.
Article continues below advertisement
Valeant's discounted valuation
Valeant's Salix portfolio is one of its core businesses. Salix is expected to contribute 14% to Valeant's estimated 2016 revenue. The business alone was rumored to be valued at $10 billion.
With its estimated annual revenue of $9.6 billion, Valeant's $5.6 billion market cap on November 28, 2016, seemed to be greatly discounted. However, this discount has been following under pressure top line and the company's massive $30 billion debt. We'll discuss Valeant's top line growth concerns beyond 2016 in the next article.
For more information on Valeant's rumored Salix divestment, read Valeant to Sell Salix Business to Takeda
Given generic competition, Valeant and its peers Mallinckrodt (MNK), Endo International (ENDP), and Teva Pharmaceutical (TEVA) are expected to see pressure on their top lines.