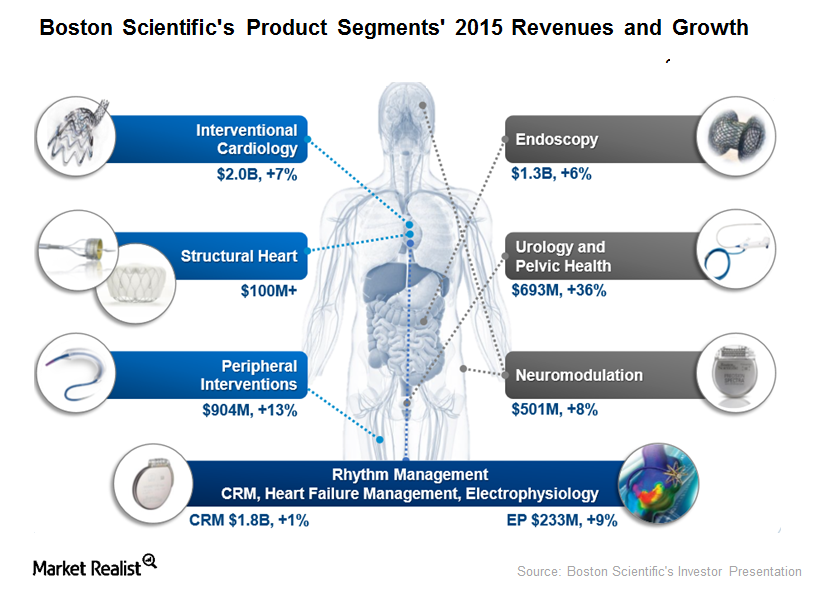 Trial Data Affirms Positive Results of HeartLogic Diagnostic Service
By Sarah Collins

Dec. 1 2016, Updated 11:05 a.m. ET
What is HeartLogic?
Developed by Boston Scientific (BSX), HeartLogic is a system of sensors that can be attached to defibrillator devices. These sensors can monitor the patient and predict heart failure events. Boston Scientific has not yet received the approval for the device, and it has sent the application for CE Mark and FDA approval. The company has plans to conduct various studies after receiving the approval for further evaluation of the device's efficacy.
As shown in the chart above, Heart Failure Management is a key division of Boston Scientific's Rhythm Management business, which includes all of the company's business segments.
Article continues below advertisement
MultiSENSE study results
A clinical study, Multisensor Chronic Evaluation in Ambulatory Heart Failure Patients (MultiSENSE), was carried out at the Penn State College of Medicine. The results of the study were presented at the American Heart Association's Scientific Sessions 2016 in New Orleans.
MultiSENSE was conducted on 900 patients for approximately one year. The study results showed ~70% accuracy with respect to the system's capability to alert the physician about one month in advance about a patient's worsening condition.
According to the study's principal investigator, John P. Boehmer, "The primary endpoints were exceeded and demonstrated that this algorithm, which mimics the activity and analysis of a clinician by combining multiple measurements evaluating different aspects of heart physiology, is a strong predictor of heart failure events.
"The study illustrates compelling performance of the HeartLogic algorithm for the detection of worsening heart failure and lays the foundation for future studies of the alert in clinical practice."
According to Boston Scientific's Kenneth Stein, "The successful results from this study and the development of the HeartLogic service are foundational to our continued development of differentiated solutions for the management of heart failure."
HeartLogic can help Boston Scientific gain some market share from its major competitors Edwards Lifesciences (EW), Medtronic (MDT), and St. Jude Medical (STJ). Investors can consider the iShares S&P 500 Growth ETF (IVW). BSX accounts for ~0.29% of IVW's total holdings.
In the final part of this series, we'll discuss Boston Scientific's recently completed acquisition of EndoChoice.