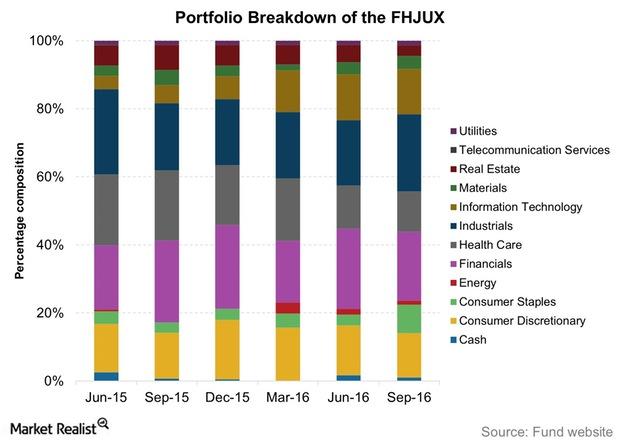 Looking at the Portfolio of the Fidelity Advisor Europe Fund
By David Ashworth

Oct. 27 2016, Updated 1:41 p.m. ET
Fidelity Advisor Europe Fund overview
The Fidelity Advisor Europe Fund (FHJUX) notes that it seeks to grow capital over the long term by "normally investing at least 80% of assets in securities of European issuers and other investments that are tied economically to Europe."
The fund management believes in investing in superior quality companies that are available at a discount to their fair value. The fund notes that its bottom-up stock selection focuses on investing in companies that have "proven business models, wide competitive moats and access to scarce or intangible resources (e.g., properties, cost structure, R&D, brands, company culture and management)."
FHJUX's assets were spread across 70 holdings in September 2016, and it managed $1.2 billion in assets. In the August portfolio, its equity holdings included Shire plc (SHPG), Koninklijke Philips N.V. (PHG), ABB Ltd. (ABB), B shares of Novozymes A/S (NVZMY), and Rolls Royce Holdings plc (RYCEY).
Article continues below advertisement
Portfolio changes in the Fidelity Advisor Europe Fund
Industrials and financials are the top two invested sectors of FHJUX, and each sector commands more than one-fifth of the portfolio. Information technology has edged out the consumer discretionary sector to take the third spot, with healthcare rounding off the top five invested sectors. The fund is not invested in the telecom services sector.
Compared to the MSCI Europe Index, FHJUX is heavily overweight in the industrials and information technology sectors. At the same time, it is sharply underweight in the consumer staples, materials, and energy sectors.
The sectoral composition of FHJUX changed considerably from March 2014 through September 2016. Consumer staples formed more than 13% of the portfolio in the beginning of that period. Currently, consumers staples form less than 10% of the FHJUX portfolio.
However, in the most recent quarter, exposure to the consumers staples sector has increased sharply. Healthcare previously formed more than a fifth of the fund's assets intraperiod, but it now forms ~12% of the portfolio.
Tech stocks are favored by the fund's management. In March 2014, these stocks formed 1.5% of the portfolio, but they currently comprise more than 13% of the fund's assets.
Has this frequent and sharp portfolio churn helped the Fidelity Advisor Europe Fund – Class A (FHJUX) in YTD 2016? Let's look at that in the next article.