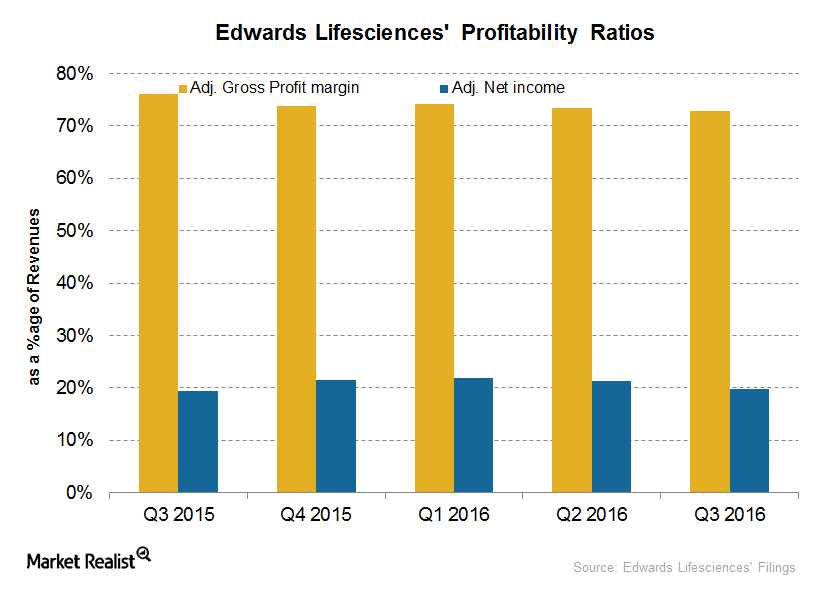 How EW's Gross Profit Margins Were Affected in 3Q16
3Q16 profit margins
Edwards Lifesciences (EW) reported falling revenue in 3Q16. Its gross profit margin fell and was reported to be ~72.8% of its total revenue, compared to ~76.2% in 2Q16.
EW's margins are expected to continue to be affected by currency headwinds for the rest of 2016. Consequently, the company has maintained its gross profit margin guidance for 2016 at 73%–74%. However, its adjusted net income was reported to be stable at around 20% of its total revenue.
Article continues below advertisement
Factors impacting margins
In 3Q16, Edwards Lifesciences reported a fall in its gross profit margin due to a negative foreign exchange impact from international sales and a rise in its SG&A (selling, general, and administrative) and R&D (research and development) expenses. The rise in its sales and employee-related costs led to a rise in its SG&A expenses in the quarter, which amounted to ~31.1% of its sales.
EW's R&D expenses rose due to its investment in its aortic and mitral transcatheter valve programs. R&D investments rose ~12% in 3Q16 on a YoY (year-over-year) basis.
In 2017, Edwards Lifesciences expects its gross margin to strengthen, led by falling currency headwinds, new product launches, operational efficiencies, and the expanded use of its Sapien valves in intermediate-risk patients.
Investors can consider investing in ETFs such as the First Trust Health Care AlphaDEX ETF (FXH), which has ~40% exposure to the US medical device and diagnostics industry. FXH holds 1.9%, 2.2%, 1.7%, and 1.4% of its portfolio in Edwards Lifesciences, Zimmer Biomet Holdings (ZBH), Boston Scientific (BSX), and St. Jude Medical (STJ), respectively.