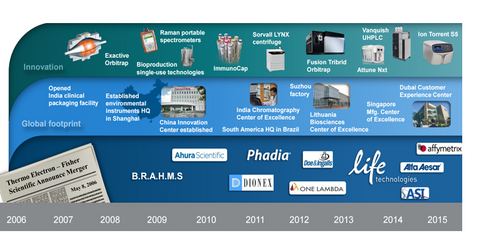 A Look at Thermo Fisher Scientific's Recent Product Approvals
By Sarah Collins

Updated
Thermo Fisher Scientific's innovation strategy
Thermo Fisher Scientific (TMO) has mostly grown through strategic mergers and acquisitions. It has also consistently invested in research and development (or R&D) to enhance its acquired product portfolio as well as to develop new products.
Thermo Fisher Scientific's R&D investments comprise ~4% of its total revenues. In 2Q16, the company registered organic revenue growth of ~4%.
Among TMO's peers, Abbott Laboratories (ABT), Becton Dickinson (BDX), and Baxter International (BAX) invested approximately 6.4%, 6.5%, and 5.8% of their total revenues, respectively, toward R&D in their most recent quarters.
The iShares Russell 1000 Value ETF (IWD) invests ~0.33% of its total holdings in Thermo Fisher Scientific.
Article continues below advertisement
Recent product approvals
On September 19, 2016, Thermo Fisher Scientific (TMO) launched a new sample purification system called KingFisher Presto. TMO noted that KingFisher Presto "automates the isolation of target nucleic acids and proteins for biopharma, biotech and research projects in high-throughput laboratories."
According to Thermo Fisher Scientific, "The Thermo Scientific KingFisher Presto system is designed to be part of an automated workflow using a liquid handler with a gripper or robot arm to purify samples with volumes from 50µL to 5mL.
"The instrument's small footprint allows for easy connection to several liquid handling instruments in either a side-by-side or on-deck configuration, allowing flexible selection of platform and use for a wide variety of applications."
In August 2016, Thermo Fisher Scientific (TMO) received approval from the FDA for the EliA anti-thyroglobulin and anti-thyroid peroxidase tests for autoimmune thyroid disease. The company also received FDA clearance for a new immunoassay for the specific detection of hydrocodone. Hydrocodone is used to treat moderate to severe pain. TMO has a large number of generic and branded generic products in the market.
Next, let's discuss the company's recently completed FEI acquisition.