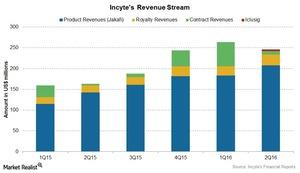 Understanding Incyte's Revenue Stream in 2Q16
By Mike Benson

Sep. 2 2016, Updated 4:04 p.m. ET
Incyte's 2Q16 revenues
As we've already seen, Incyte (INCY) reported revenues of $246.3 million in its 2Q16 results. This converts to a 51% revenue growth in 2Q16 compared to $163 million in 2Q15.
There's increasing demand for Incyte's Jakafi, the only FDA-approved drug for the treatment of myelofibrosis and polycythemia vera, rare types of blood cancer, in the United States. Analysts estimate that revenues for Jakafi will increase to $834 million for 2016 and that overall revenues for Incyte will increase more than 38% to $1.1 billion in 2016.
The above graph shows Incyte's revenues by quarter.
Article continues below advertisement
Revenue performance
Incyte's business revenues are reported under three segments. Let's take a look at the changes for these segments on a year-over-year basis.
Product revenues
To date, Incyte's product portfolio includes Jakafi (ruxolitinib) and Iclusig (ponatinib). Jakafi revenues increased to $208.1 million in 2Q16 compared to $142.4 million in 2Q15. This is due to the increase in volume as well as the price of Jakafi in the United States. Analysts estimate that Jakafi revenues will increase to more than $200 million in each quarter of 2016 and exceed $1 billion in revenues for 2017 in the United States.
Iclusig reported revenues of $4 million for 2Q16 and is further expected to have revenues of $11.3 million for 3Q16 and $13.4 million for 4Q16. Incyte acquired rights to Iclusig from Ariad Pharmaceuticals (ARIA) in June 2016.
Article continues below advertisement
Royalty revenues
Incyte has collaborated with Novartis (NVS) for the development and commercialization of Jakafi outside the United States for all hematologic and oncologic indications. Novartis sells this drug under the name Jakavi outside the US markets.
Royalty revenues for 2Q16 were $26.0 million compared to $17.4 million for 2Q15. The increase was mainly due to an increased demand for Jakavi in international markets.
Contract revenues
Incyte has collaborative research and licensing agreements with Novartis and Eli Lilly (LLY). Revenues from these agreements are reported under the company's contract revenues. For 2Q16, contract revenues increased to $8.2 million compared to $3.2 million in 2Q15. According to the agreement with Eli Lilly, contract revenues are related to upfront fees toward the achievement of milestones.
To divest the risk, investors can consider ETFs such as the SPDR S&P Biotech ETF (XBI), which holds ~2.5% of its total assets in Incyte.