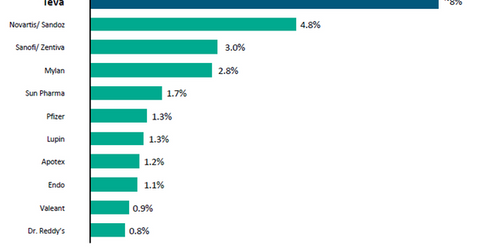 Teva Pharmaceutical Leads in Global Generic Pharmaceutical Space
By Margaret Patrick

Updated
Leader in global generic pharmaceuticals
After the acquisition of Allergan's generics business and divestitures (as required by antitrust agencies), Teva Pharmaceutical Industries (TEVA) has become a leading player in the global generic pharmaceutical industry. The company boasts a strong commercial presence across multiple international markets as well as a robust research pipeline.
In 2017, TEVA expects to launch around 1,500 products to ensure an annual growth of ~5% for its generics business. This projection also considers the negative impact on generic business revenues from price erosion and volume declines, which is usually ~5% annually. TEVA has estimated that its current contract pricing in the generic pharmaceutical industry is about 50% lower than in 2009.
Article continues below advertisement
Teva Pharmaceutical accounts for 8% of the global generic pharmaceutical market. Although the share is low for a market leader, it is significantly higher than those of other generic players such as Novartis (NVS) (through its Sandoz subsidiary), Sanofi (SNY) (through its Zentiva subsidiary), and Mylan (MYL).
If TEVA manages to capture a greater share of the overall market, it would boost the company's share prices as well as those of First Trust Value Line Dividend Index Fund (FVD). TEVA makes up about 0.5% of FVD's total portfolio holdings.
Generic pharmaceutical growth trends
With multiple pharmaceutical products losing their patent exclusivity in 2016, IMS Health and Mckinsey project that from 2015 to 2020, the generic pharmaceutical industry in the US is expected to witness a healthy CAGR (compound average growth rate) of about 5%. In Europe and Japan, the industry is expected to report a CAGR of ~6% during the same period. This growth would involve a rate of ~3% in Europe and double-digit growth in Japan.
Generic pharmaceutical products are also expected to report a CAGR of about 10% in growth markets from 2015 to 2020. The Chinese generic market is also predicted to witness a CAGR of about 9% from 2015 to 2020, making it an attractive market for TEVA.
In the next part, we'll analyze TEVA's strategy to continue its dominance in the generic pharmaceutical industry.